With the Oxford and Cambridge boat race kicking off 'The Season' on Easter Sunday, we thought a competitive Bollinger offer would be the ideal way to get things flowing.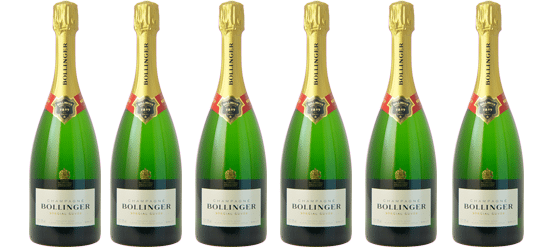 Six bottles = £29.95 (£37.95) per bottle
One bottle = £32.95 (£41.95)
History: The name Special Cuvée was created in 1911. The idea came from William Folks, then partner of the illustrious London House of Mentzendorff. This great wine lover felt it was an insult to simply call this great wine "non vintage". The suggestion of naming it "Special Cuvée" was immediately approved by Monsieur Bollinger.
A blend par excellence, the Special Cuvée is the purest expression of the Bollinger style; of its craftsmanship and its singular conception of what a champagne should be.
Boat Race Offer: just £32.95 a bottle instead of £41.95 a bottle or £29.95 per bottle instead of £37.95 when bought by the case of 6.
Our shops will have a couple of bottles open for tasting over the next few days in Chiswick, Barnes, Kensington and Chelsea – so do stop by for a drop and stock up before Good Friday when our shops will close for Easter weekend.
Also available online, but please check our final order cut offs for Easter delivery on our homepage.
Let the season begin!