With great value wines in mind, the 2010 Moulin-à-Vent Vieilles Vignes lept off the page and out of the glass when we tasted it yesterday. In fact Matthew Jukes was also so enthused he recently wrote in Money Week:
'This beauty comes from very old Gamay vines in the noble Beaujolais Cru of Moulin-à-Vent and it's made in exactly the same way as a Grand Cru Burgundy. It is very nearly drinking and on account of its postcode it is a phenomenal bargain. With another five years to run this is a wine that will amaze you with its skill, finesse and sensuality.'

2010 Moulin-à-Vent, Vieilles Vignes, Domaine Thibault Liger-Belair, Beaujolais, France.
Price:£21.75 per bottle or £19.95 case price.
Tasting note:
The 2010 Moulin-à-Vent Vieilles Vignes is immediate, juicy and expressive, Really fresh with a touch of spice. So juicy and more-ish. Deep raspberry, vibrant, energy-filled wine. With a hint of black pepper on the nose, and under pinned with a clear structure for aging, the wine is a treat now and will certainly open up over the next 5 years or so.
What the critics say:
'Very rich and sumptuous indeed. One can easily see the relation with his burgundies. And one can see that this is Moulin à Vent. AND it probably isn't a totally silly price. Ambitious and achieved. Super clean…' 17/20 Jancis Robinson MW OBE
'There is good richness to the complex and vibrant flavors that are underpinned by phenolically mature structural elements and fine length. This firmly structured example displays the classic size, weight and power of a fine Moulin-à-Vent.' 89 – 91 Allen Meadows

Beaujolais?
Not be confused with Beaujolais nouveau, the greater part of Beaujolais wines are labeled with the area's name and are simple, drinkable wines to be consumed within a few years of bottling. But, there are ten villages whose wines are recognised for their superior aromas, flavours and ageing potential and are eligible to be labeled with the village name. Of these Cru Beaujolais, Moulin-à-Vent is one of the most distinguished.
The winemaker:
Having left Paris in 2001 with a degree in winemaking and viticulture to take over his family's vineyards in Burgundy, Thibault Liger-Belair set about rejuvenating the vineyards using only organic and bio-dynamic cultivation techniques. Within just a few years, he had a reputation for making top-class wines, which rapidly gained the respect of critics, collectors and drinkers alike.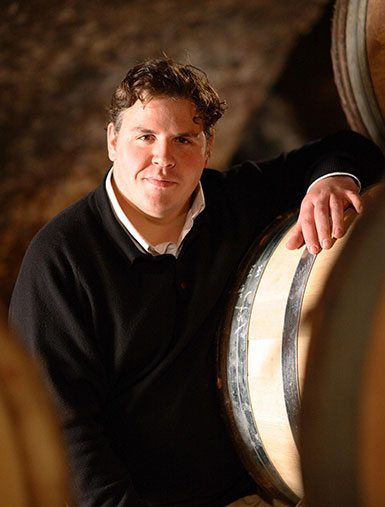 A few years on, Liger-Belair bought 8 acres in Moulin-à-Vent, including 5 parcels with old vines (Vieilles Vignes) ranging from 60 to 80 years old. Instead of adopting Beaujolais' usual carbonic maceration, he uses the Burgundian style fermentation techniques for pinot noir. The result is a much fuller wine with more richness and concentration of fruit.
From Beaujolais to Burgundy;
We have listed some of our top Burgundy picks from Thibault's last few vintages on the website, all conveniently with tasting notes from Jancis Robinson which is perhaps testament to the sheer quality of the wines.
All our wines are available to buy online or drop by one of our shops in Kensington, Chelsea, Chiswick or Barnes.
Here's a video of Thibault Liger-Belair: