Following in the footsteps of some of history's political and poetic greats I am developing an unexpected admiration for this curious sweetie. I was very pleased to be asked to join a small crowd to taste the latest release of this mythical wine: the 2008 vintage of Vin de Constance.

 The wine is bottled in a distinctive 18th century bottle shape.
Klein Constantia Estate
Vin de Constance comes from the Klein Constantia estate founded in 1695, just 20 miles from Cape Town at the foot of Table Mountain. Most unusually for a 'New World' wine, it was big news in Europe throughout the eighteenth and nineteenth centuries. Napoleon is said to have shipped over bulk quantities of Vin de Constance to St Helena, to allow for about a bottle a day to see him through his exile there, but he was not alone, Louis XVI, Frederick the Great and the discerning gastronomes that made up the Russian Royal family were all more than partial too. Our own dear Jane Austen recommends it in Sense and Sensibility to sooth a broken heart and the more effusive Frenchman, Monsieur Baudelaire, suggests that only the 'lips of a lover were more heavenly sweet…'
Following its early success the estate's fortunes changed in the mid nineteenth century – the dreaded Phylloxera devastated the vineyards and the estate went in to rapid decline. Not until 1979 did life get breathed back in to Klein Constantia when a local family picked up the pieces, planted new vines and started the revival of this once illustrious wine estate – the revival has continued as new owners took the reins in 2010, with deep pockets and huge ambition.
Tasting in St James & The Winemaker
In the wonderful crypt-like cellars, below the Stafford hotel in St James, the wine was introduced most brilliantly by the young winemaker Matt Day. His self-effacing style was refreshing and although he was quick to say 'sorry, I am not the marketing guy, just the winemaker' his chat was all the more interesting for it. He captivated the assembled journalists and sommeliers with every word. Tales of fighting off the local Baboons with paintball guns as they are protective, yet greedy neighbours and describing the intense workload that goes in to harvesting the raisins that make up a large part of this glorious, naturally sweet wine. It takes a picker a whole day to harvest just a kilogramme of raisins, such is the intensity of this skilled work.
A charming man and clearly a very talented winemaker and not yet even thirty… His introduction of Acacia staved barrels to add freshness to the wine is just one example of the flair and uncompromising approach he has brought to the estate as he attempts to wrestle the very best from the vines.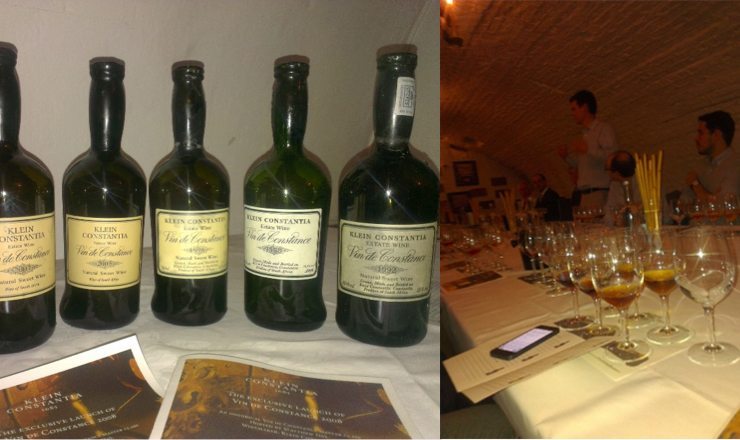 Vin de Constance Vertical | Matt Day the Winemaker at the Stafford Hotel Tasting
It was not just his story or the estate's history that was so entrancing – the wines we tasted were fascinating. We tried six vintages from 1998 up to the latest release, the 2008. Each quite distinct from the next. The older vintages were beautifully mature and evolved; the deep brown colour so intense on the 1988, pre-empting dark, brooding flavours of malt and molasses – but with a great zip of acidity at the core, underpinning the whole and keep it so light on its feet.
2008 Vin de Constance
By the time we tasted through to the immense 2007 vintage rated so highly on Mr Parker's website (97 points) and on to the fabulous 2008 – there was a clear picture of how this wine ages and evolves.  The simple answer is – beautifully, gaining huge complexity and fascinating levels of flavour – and on this evidence – within a sensible time-frame to boot.
It is this aspect I thought was really interesting, a wine to buy young and be able to enjoy realistically within our lifetimes – this, combined with the very reasonable price make it such an alluring proposition. Truly world class wine to buy early and enjoy, even if you are as impatient as me, in 10 to 15 years. For the price of a single bottle of the super Yquem 2011, released just a couple of weeks ago – you could have a several of this and it will give immense pleasure.  A great wine with great pedigree, this is certainly worthy of any wine lover's consideration.

Opening offer:
Duty-Paid only, by the case of 6 x half-bottles – £165.00 + VAT (£33.00 a half, including VAT)
OFFER TERMS: These offer prices are valid while stocks last, and then until the 15th of November 2013 – at which stage the offer will close.
TO ORDER: Please reply to this email with final delivery instructions or call any one of our shops.
Please also note that our October Sale is still up and running.