Nicolas Rossignol
Nicolas Rossignol was born in Beaune on 26 July 1974. He is the fifth generation of the Rossignol family born in Volnay. On his maternal side, his grandmother was from Pernand Vergelesses and his mother is from Pommard.
As a child he was not remotely interested in being a wine grower, although like most boys, he loved tractors.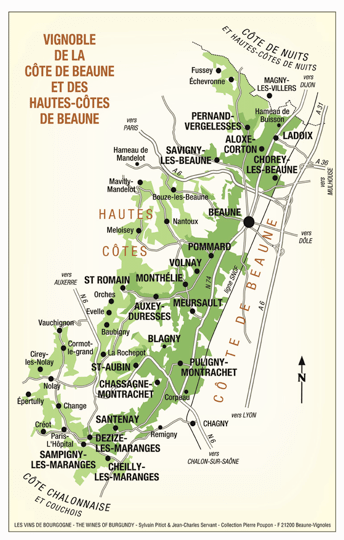 Early Studies
Despite an initial lack of enthusiasm he decided to study a BTS viticulture and vinification at the lycée in Beanue, just to see if he liked it. In his first year he met some young chaps from Sancerre who had a deep love of their vineyards. He began speaking with his grandfather and thought "this is what I want to do. It rose within me."
In the middle of his study he went to Châteauneuf-du-Pape. He was inspired by the wine he saw there. "Big, deep and strong wine and with elegance and finesse,"
He began gaining experience by working for Joseph Voillot in Volnay. "It was not so far away, but it was a way to understand the soil." Joseph Voillot acted as a mentor figure to the young Nicolas who, like many young men, was at odds with his father. "Joseph taught me everything."
Quite soon, Nicolas was fed up with studying. He didn't want to go on to the university in Dijon, but wanted to make wine 'for real.' First he took some time out at Lafite Rothschild." This was more to learn about the vineyards." Although he says he did not learn anything directly, he became more aware about things such as free juice.
Introduction to Winemaking
After the end of his studies in 1994 he did a harvest at home with his father and from then on never missed a vintage. "However he felt that he needed "to go out into the world to experience something else and to properly appreciate where I am." So he decided to make two vinifications in one year and headed off for South Africa in 1995 to Boschendal.
"Here I learnt about life! They said you are free; you can choose when to pick the grapes." He was offered Cabernet Sauvignon, Merlot and Pinot Noir. He chose Pinot Noir and made the 1995 vintage. "I was allowed to do what I wanted. I learnt a little bit about wine. I showed them about whole bunches, but I learnt more about people and life. It is beautiful there."
(coming back to Burgundy) "At first I worked with my father." His father was still young, (he has only just retired now in 2008) and Nicolas was still hankering to get away and make wine in other parts of the world, but by the end of 1995 he had to do military service.
Then in 1996 a cousin gave Nicolas the opportunity of renting his vineyards. I had to choose. I took the moment and started my own estate." They made separate estates, father and son. Although the vineyards were separate, Nicolas made all the wine. His father gave him free rein. "It was my worst work! I did what I learnt at school and it was bad. It was exciting and stressful, but I have a strong character, like my wine and my son, Joseph. I was just twenty-one years old and I had 22 appellations. I learnt very quickly." Nicolas went about changing the way things were done.
"My father is more focused on the vineyards than the wine. He ploughs the soil. He really feels the soil," He passed his knowledge on to Nicolas. "The big difference between us is yields. My father worked in the 70s and 80s, the worse time in Burgundy for wine, when they took the easy way. He sold the grapes and wine to négoce, but I wanted to produce the grapes to make and bottle my own wine."
"My father taught me to respect the soil and the vineyards." His grandfather showed him how to produce smaller grapes to increase concentration. He encouraged him to have a high canopy. He also told Nicolas about the moon calendar from pruning the vines to racking.
"My great motivation was to see my wine on the lists at restaurants. I wanted one day to become a reference for the village. At the time I needed outside criticism because my father would not tell me what he thought, so I went by journalists' reviews. Now I am more confident in myself and I do not take as much notice." He is always trying to change things, but is no longer trying to prove himself.
Biodynamics
"Yields are very important, but I must also think about the price at which I can sell the wine. The most important thing for me is the purity and expression of the soil. I am not worried if people do not understand what I am doing. Maybe one day they will."
There have been several key figures in Nicolas's life including his mentor Joseph Voillot, after whom he named his young son. Another winemaker has clearly inspired him. "In 2002 I made changes in my wine to be more like Christophe Roumier; to make wine with more elegance and purity. I tasted a lot with Olivier Lamy. We opened so many bottles and people would say 'you are crazy to open so many and leave so much.' We were just tasting so we left most of wine in the bottles we opened, but you have to taste the wine to learn."
"In 2002 the vineyards came into their own. We were doing more things in tune with the moon. I am not 100% biodynamic. We sprayed with clay in 2001 and 2004 and I think this works well. When the bunches close it helps against the rot. Many things are interesting in biodynamics, but other things are not."
"I am sure the way we work the vineyards helps against rot. We work the vines so that they are more protected against rot. You can speak about homeopathy; speak about biodynamics. These are great in good conditions, but not when the conditions dictate that you must intervene. I do racking, bottling and pruning with the moon, but when the moment comes you may need to do something more interventionist."