Tio Pepe Fino 'En Rama' – Limited Release Offer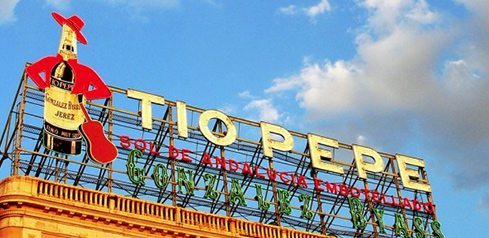 Last weekend I saw my first swallows of the season, but heeding Aristotle's wise words I did not want to get over excited about summer's arrival.  It was not until I got news from Jerez that our shipment of this year's Tio Pepe En Rama was en route, could I be sure that the summer season must be nearly here!
This year, which marks the 5th release of En Rama, the sherry was bottled on the 24th of April and our limited consignment is now heading hard for our warehouse at a very carefully monitored 12° C.
'En rama' is the local jargon used by winery workers to refer to wine in its unrefined and most delicate state, prior to the normal stabilisation, clarification and filtering processes that fino sherry, like many white wines, usually goes through prior to bottling. Made in strictly limited quantities, Tio Pepe Fino En Rama is best drunk within six months of bottling – perfect summer quaffing!

Our offer: £15.95 per bottle OR for a limited period only £14.50 per bottle when you buy 6 bottles.
Again this year, the 2014 release has been selected by cellarmaster Antonio Flores from the heart of a selection of the best casks from two of the ancient Tio Pepe soleras: Constancia and Rebollo.  He has targeted particular 'butts' (sherry barrels) where the conditions have resulted in an enhanced growth of 'flor', the particular flowery growth of yeast on the surface of the wine which gives exceptional finesse and delicacy of aromas to this rare wine. Bottled unfined and unfiltered, the 'En Rama' release gives customers the opportunity to drink this remarkable and intense wine in its most natural and delicate state and to enjoy its yeastier, breadier, slightly fuller flavour in its freshest condition.
You can BUY individual bottles in our shops (from Tuesday after the bank holiday) for £15.95 bottle OR for only £14.50 when you buy 6 bottles (or as part of any mixed dozen from our full range).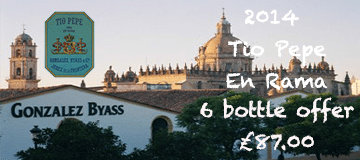 ORDER a case of 6 bottles Tio Pepe 'En Rama' (2014 bottling) at £14.50 bottle (£87.00)*
*Delivery is FREE on all orders over £100, or you can, of course, collect from any one of our stores.