Today Neal Martin begins his note on the 2013 Sauternes with "Usually, I urge readers to go out and buy Sauternes at the end of my report, but instead…go out and buy Sauternes. Go on. You know you want to"  and ends it with "it should not cost too much to fill your cellar with this most magical golden elixir." Indeed not.
This is the most outstanding value of the 2013 vintage. We think that the very best wines of the vintage are mostly in Barsac, and certainly feel that this is where the value is. As a result we have made up our annual L&S mixed case of Sauternes (available in bottles and halves at the same price, for final delivery duty-paid only) with just three wines which seemed to us to offer the most outstanding value: Climens, Doisy-Daëne and Doisy Vedrines. Yours for only £325 (IB) per case of 12 bottles or 24 halves. Go on, you know you want to.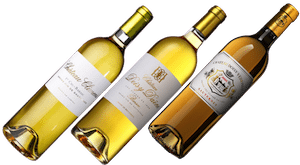 The rest of the Sauternes can be found here:
Our recommendations in the reds can be found on our two lists,
Many of these are at the lower end of the price spectrum. These wines, bought at low en primeur margins, offer real value to the consumer. Some are from particularly gifted winemakers who have just got it right in the vintage, such as Denis Durantou with his La Chenade and Les Cruzelles, while others just seem to have had a happier time than their peers in this difficult vintage. There is a sector of the northern Médoc (from Saint Estèphe up) which clearly had less rain in September than the areas further south. This has clearly benefitted the likes of Clos Manou, Capbern Gasqueton and Calon Ségur, to name just a few of our favourites here. All of these, we believe, will not disappoint if you are looking for wines to cellar (mostly for a short time) to drink.