Our Wednesday afternoon a couple of weeks ago was cheered up enormously by a flying visit from Paul Symington.  A more charming man it is hard to imagine, but not in a laid back, calm sort of way.  Paul is very vital and engaging character who had come to introduce his family's latest release – 'Ne Oublie' – a very rare and very old release of a tawny port from barrels at the family's Lodge in Porto.
This intro was a few days before the official release and as such we had no real idea what to expect.
As Paul talked us through the 'bespoke presentation box' handcrafted with the finest leathers by Smythson of Bond Street, the individually numbered, hand-made crystal decanters – designed by Portugal's leading glass manufacturer – adorned with sterling silver bands, moulded and engraved by Scottish Silversmiths Hayward & Stott, and carrying the mark of the Edinburgh Assay Office, my heart slightly sank I must say.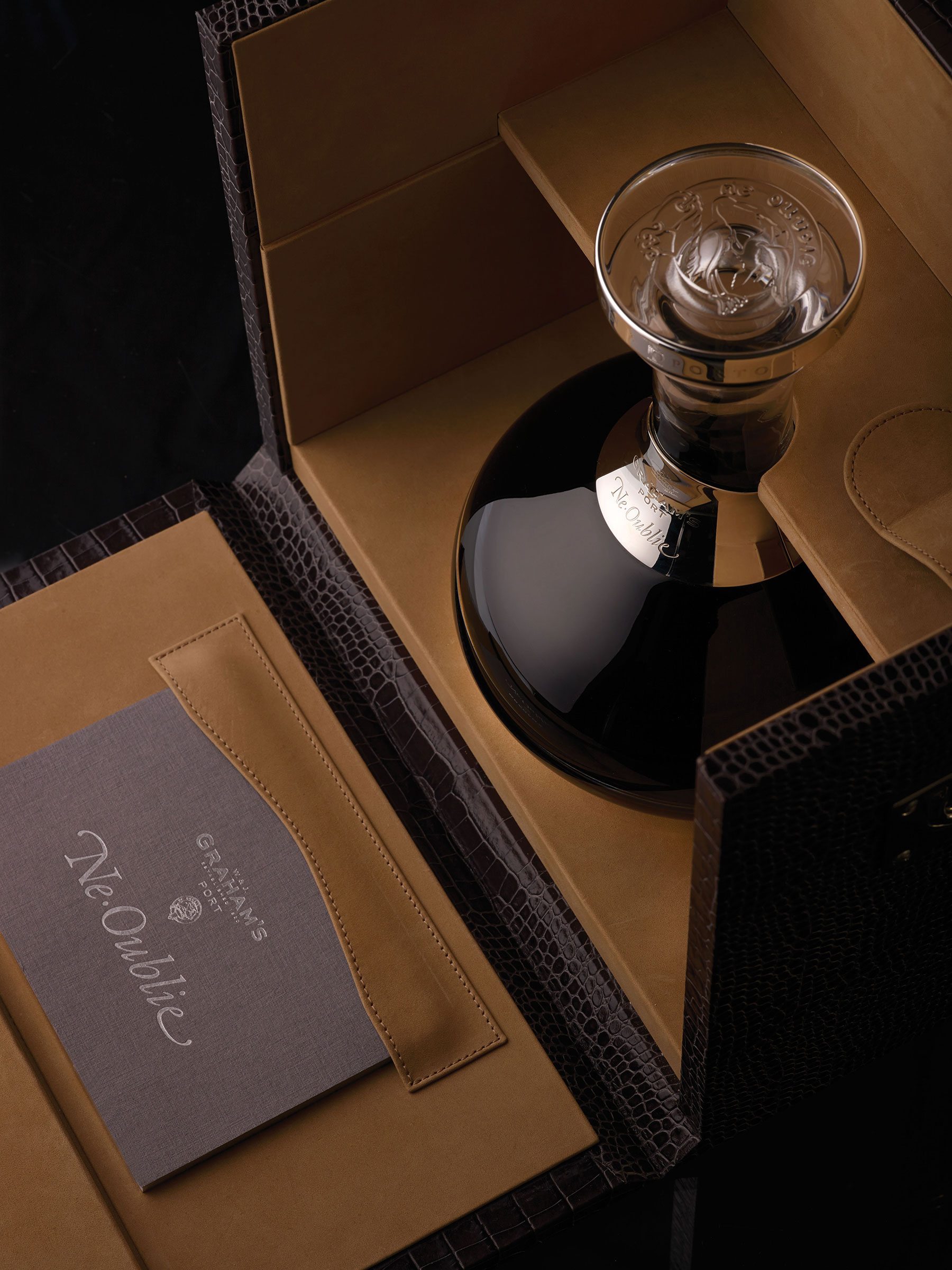 The stylish Smythson box houses this impressive old port in its fabulous decanter
This is going to be expensive we thought and what of the actual wine?  Surely great port does not need all of this make-up, this fancy marketing?
We then looked at the pictures and it is actually – really rather smart.  As tasteful and smart as you would expect from this historic, old school port family.  A very pretty decanter and a nice box – but still we thought – really?
The Port itself has a fascinating story.  The limited 656 bottles come from one of three surviving barrels dating back to 1882.  They were bought by Andrew James Symington, the first member of the family to work in the Port Trade – and marked the year of his arrival in the Douro from Scotland.  So, a charming story with a touching sentimental bent – and with more than 130 years in the barrel I was now excited!
Paul opened up the small sample of this very limited liquid and almost instantly you could sense it.  The nose is hugely impressive – rich and powerful.  Almost all pervading, the whole tasting room in our cellar soon filled up with an enormously complex cloud, with notes of prunes, caramel, wood-spice, treacle and rich brooding dark fruit – you could go on sniffing this and spot new nuances all afternoon probably – impressive stuff and a real delight to drink too – in the mouth the sparks continue to fly; rich dry fruits and an amazing texture – lots of gloss and some bright acidity – but all very harmonious, melded together seamlessly over the decades.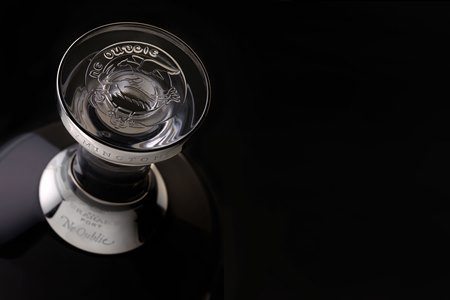 Beautifully crafted Portuguese glass is adorned with gorgeous Scottish Silver, in the fine English case all bringing together the 3 countries that are so central to the Symington's family history.
So this is certainly not mutton dressed as lamb – this is fabulous port, really incredible stuff – and it comes in a rather smart pack to boot. It is therefore no surprise that this comes with quite a serious price-tag.  How do you price this sort of slice of history?  How expensive is too expensive for an inimitable, very rare and totally delicious bottle?  Well the port drinkers and fine wine collectors of the world will decide – this slice of history is all yours for £4510.00 per bottle.
As an exercise in shining a light on Port, Paul hopes this extravagant release will turn heads – and it certainly should, this is a fabulous, fascinating drink which illustrates brilliantly the remarkable potential and fascinating complexity achievable in this historic wine region.
To order please get in touch by e-mail david@leaandsandeman.co.uk or visit our website – GRAHAM Ne Oublie Very Old Colheita – £4510 per bottle.
You can learn more about this fascinating release in this video here –

And we would highly recommend reading these interesting articles about it –
One from The Telegraph – Victoria Moore, The Telegraph
The other from the brilliant Andrew Jefford, which was published in the magazine The World of Fine Wine