In July 1395, Philippe the Bold, Duke of Burgundy, made a suitably bold statement declaring the bountiful Gamay to be a "very bad and disloyal plant", outlawing it on the noble slopes of Burgundy where Pinot Noir should, did and does rule supreme.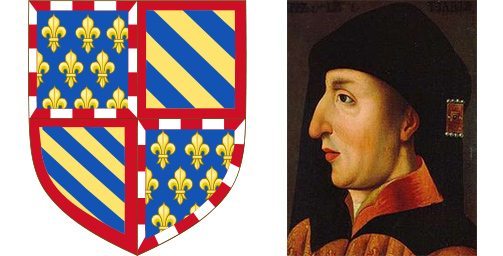 Philippe II 'The Bold' of Burgundy – banished Gamay to the south
Only in the granite hills to the south was Gamay allowed and here it dominates to this day, making Beaujolais the only place that Gamay can truly call home. As with many places, it was the Romans who brought vines to the Beaujolais region and the place where they first planted them, so they say, was at Régnié.
Beaujolais
We are familiar with Fleurie, Brouilly and Moulin-à-Vent, the best-known of the Beaujolais "crus" – villages of more elevated reputation, allowed to trade on their village name rather than being sold as generic Beaujolais.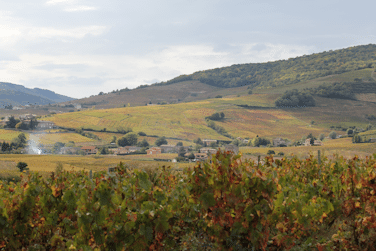 50 year-old vines on stony-sandy soils on a granite bedrock
Less well-known is the village of Régnié, a relative new-comer to the list (since 1988), but in said village we  stumbled across Domaine Rochette whose lovely Beaujolais Villages we sell (for simple, uncomplicated, bright fruity Beaujolais-ness), who tempted us for a couple of vintages to brave the indignity of Beaujolais Nouveau (but it was lovely stuff – that's our excuse), and whose village wine is a thing of beauty.

Single bottle £14.50 or just

£12.95

case price*
'A really fabulous cuvée of Regnié from the top vineyard site of the village, the 'Cote des Braves'. Relatively juicy and supple with undeniable gentle persistence. Winner of 2nd prize in the 'Concours St Vincent de Mâcon 2013'. L&S
The Producers
Joël and Matthieu Rochette have a very traditional but also very rigourous approach to viticulture, and, as usual in Beaujolais, where the 'gobelet' training of the vines make them impossible to work by machine, they hand-pick their 50 year old vines and make a severe selection in the vineyard in order to produce the best wine they can.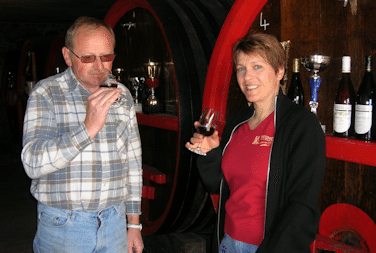 Joël Rochette avec sa femme
Tasting notes
Gamay/Beaujolais is, first and foremost, about fruity delight and the Cuvée des Braves is certainly fruity and delightful, with bright red berry and cherry flavours. But there's more. There is a delightful Pinot Noir-esque silky texture; a crisp precision to the fruit; all bound up by a refreshing but enticing finish. Combining the complex allure of Burgundy with the simple refreshment of Beaujolais in a quite magical and moreish manner – and for less than £15 a bottle.
Great Summer drinking, fine to enjoy on its own, but with enough texture for a nice dinner.
Recent Beaujolais UK Tasting
The Cuvée des Braves showed very well at the recent Beaujolais trade tasting at the Westbury Hotel.
–
*Mix any 12 bottles from our website to take advantage of our case price discount. Free nationwide delivery for all orders over £100.