We've put together a selection of 3 of our favourite wines under £10 a bottle and also a mixed case for a round £100 that includes free nationwide delivery. Orders for Central London should be delivered tomorrow.
RED
For just £9.75 a bottle the 2012 PUY-DE-DÔME – Cave de Verny – Pinot Noir offers a welcome and stylish alternative to insipid bulk produced Pinot Noir. Relatively light, it drinks very well on its own, but also pairs perfectly with roast or confit duck (thanks to Kate our restaurant sales manager for that tip).
'This amazing value red is a round and opulently rich pinot from the lost bit in the middle of France, the volcanic Auvergne. Powerful and mouth-filling. Miles away in style from the cheaper high production, global Pinot Noirs – this has style and finesse as well as the attractive soft fruit, delicious.' L&S

Single bottle  £10.75  Case price*  £9.75  – Order here
—–
Another great value red is the 2012 DUROU 'Exception' Malbec, which is a bargain at £6.75 a bottle – there's plenty going on in the glass and the nose and it pairs nicely with seasonal game dishes:
'It's not that often that you'll find an excellent quaffing red from Cahors at this price, but Fabrice Durou's Malbec, technically a Vin de France but from Fabrice's family estate in Cahors, starts out bright and plummily aromatic, becoming seductively moreish as its fleshy blackberry fruit slides happily across the tongue. Just enough rustic grip on the aftertaste reminds you it can be paired happily with the new season's pheasant, partridge or grouse.' 87/100 www.thewinegang.com (Sep 2014)

– Sold out until next week –
– Replaced with  2008 CHÂTEAU LES ARQUEYS Bordeaux  –
Single bottle £6.95    Case price*  £6.75  – Order here
WHITE
For a crisp drinking white with a bit of character, the  2013 Chateau Beaumont Blanc – Les Pierrieres  – a winner on its own at drinks parties or paired with lightly grilled white fish, perhaps with a white sauce, this will impress with both:
'70% Sauvignon, 30% Sémillon. A beautifully crafted white Bordeaux which will appeal to drinkers of even the best wines from the Graves. Fermented in wood, but only kept in the barrels for the fermentation, it has a lively fruit and a palate filled out with Sémillon weight.' L&S

Single bottle  £8.95   Case Price*   £8.50  – Order here
—–
Weekend Mixed Case – £100



 Make it easy and simply order a mixed case of 4 bottles each including FREE delivery for just £100 inc. VAT.

Next Day Delivery to Central London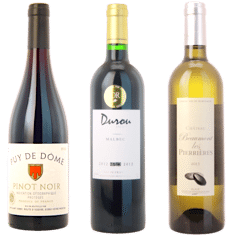 —–
*Mix any 12 bottles on our website or in our shops for our 'case price discount'. Free Nationwide delivery over £100. Next day Delivery to Central London.