Due to the popularity of yesterday's mixed case offer, unfortunately our Durou Malbec 'Exception' has temporarily run out until the week after next.
To make up for it we have replaced it with 2008 Château Les Arqueys Bordeaux which has the same price of £6.75 and as aged Bordeaux for under £10 goes, is excellent value drinking.
Weekend Winners under £10
4 x 2013 CHÂTEAU BEAUMONT BLANC Les Pierrières Blaye
4 x 2008 CHÂTEAU LES ARQUEYS Bordeaux
4 x 2012 PUY-DE-DÔME PINOT NOIR Cave de Verny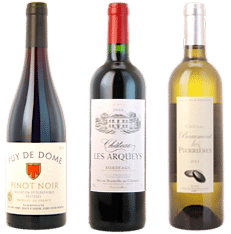 Normal price: £110.60    Case price: £100.00
inc. VAT and free delivery

Although we're out of time for delivery this weekend, you can still drop by our shops in Chelsea, Chiswick, Barnes and Notting Hill to collect, or simply order for next week.