Angélus (released this morning at £1700), was, with Pavie, elevated to the 'Premier Grand Cru Classé A' level in 2012, alongside Ausone and Cheval Blanc, which is a big deal for them, although recently in London Stéphanie de Boüard-Rivoal agreed that nothing had really changed  in terms of how the wine is made. The result has been to spike demand for the 2012 to a level above other recent vintages (around £2700), making the release price of the 2014 (£1700) look reasonable by comparison.
However one wonders if this effect is here for the long term, given that other recent vintages are mostly in the £1850-2400 range. Stéphanie assured me too that she has more demand for the wine than she can satisfy, so "why should I lower the price?" It's a hard one to argue and while this may be a case of the Bordeaux trade behaving like turkeys voting for Christmas, this may be one of the 'exceptions'. No doubt featuring in recent James Bond films has helped, and anyway, someone is going to have to pay for the new celebratory belfry, or 'carillon'.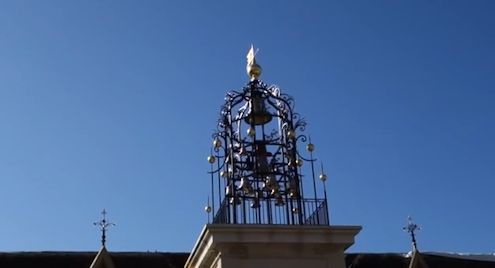 Today's other big name release is Palmer at £1500. Now we'd rather have Palmer than Angélus, (sorry Angélus fans, it's a style thing) and it is clearly one of the wines of the vintage, so if you are a follower, then it is cheap compared with the Firsts with which it vies in quality terms. It seems a shame to quibble, however, it is also a case of the release price leading the market rather than being driven by it – only the truly great vintages of Palmer (2000, 2005, 2009 and 2010) are more than this in the market now, meaning the 2008, 2006, 2004 and 2003 are all available for less. Palmer's second wine Alter Ego is also available at £370. It is a cracking wine in its own right and only the '11, '12 and '13 are cheaper.
Also out today are the Bernard Magrez wines Fombrauge (£135) – a solid and decently made Saint Emilion which has garnered some fairly flattering comments from most tasters, and La Tour Carnet, a big property revitalised by Magrez' team and made in a modern style, and which is also one of the cheapest Cru Classés out there at a mere £170. They have toned the approach here down a bit, but it is uncompromisingly modern – and good value in this style – again the notes are all close and give a good idea of the style.
A quick mention too for La Lagune, released yesterday afternoon at £275, a price which is certainly lower than for any comparable vintage, and a nice wine, but somehow still not seeming a compelling buy.