Château Pontet Canet has just come out and is yours for £648 per dozen. This great estate has gone from strength to strength over the last decade, the first Cru Classé to go fully bio-dynamic, they have re-introduced horses to work the vineyards, not to mention new concrete tanks and the rows of amphora that are an impressive sight in the chais. All evidence of the efforts they are making to get the very best out of their terroir. They must be pleased with their 2014 – it is very good, broad, powerful, burly even, but attractive and energetic too.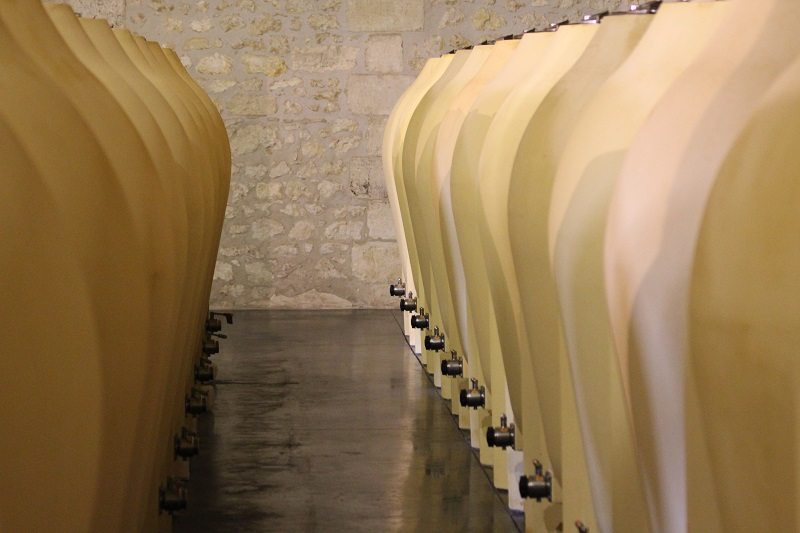 Amphorae at Pontet Canet
The critics seem to all be in accord:
Neal Martin for the Wine Advocate writes –
'This is unmistakable in terms of where it comes from, but there it retains that sense of focus and mineralité that ensures this is a total success for the vintage.'
James Suckling calls it: 'A modern classic'.
Tim Atkin MW gives it 94 points and describes it as:
'an impressive return to form for this bio-dynamic property. Bold, concentrated and built to last, it's smoky, compact and powerful, with classy oak usage, plush black fruits, savoury tannins and very good length.'
We were hoping this would have been perhaps a little less expensive, has Monsieur Tesseron overcooked it this year? There are other vintages available now for less – but he does seem to have a knack for selling his wine, whether we like the price or not and it is impressive stuff!
We were not shown the second wine – the Les Hauts de Pontet Canet when we visited – but it too is available, your entry to this great estate for £240/12.