I am delighted to have joined the team here at Lea & Sandeman in Chelsea and we will continue to unearth great value and interesting wines for you and give you the opportunity to see why we were the winners of "Regional Merchant of the Year – London" at the 2015 International Wine Challenge.

We have started the build up to the festive season and Thanksgiving is now just around the corner on Thursday 26th November.

What better excuse for us to showcase four of our favourite wines to match a typical Thanksgiving dinner of turkey at a FREE tasting on: Thursday 19th November here at 170 Fulham Road from 16.00 to 20.00.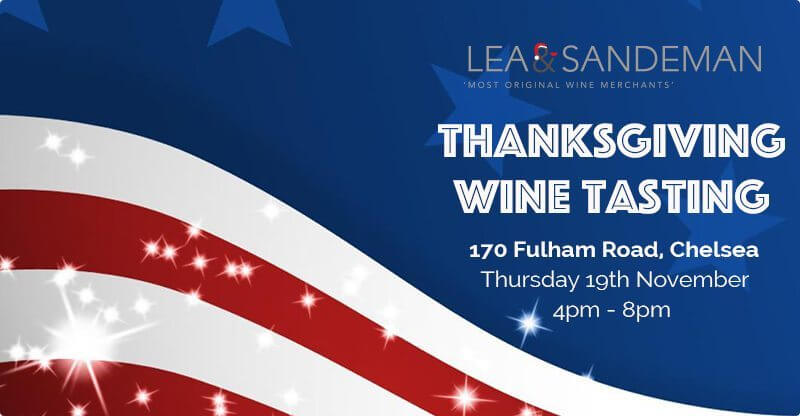 The Wines
We will be showing the diversity of Pinot Noir with a bottle from Argentina, Burgundy and the USA together with a classy Chardonnay, also from Burgundy.
* We are also pleased to offer usual case discount on single bottles for the evening. *
2013 Sleepy Hollow (California, USA) 
 £28.95 bottle – Read more.
2013 Barda Pinot Noir (Patagonia, Argentina)  
£18.95 £16.95 bottle – Read more.
2009 Givry 1er Cru A Vigne Rouge Domaine François Lumpp (Burgundy)
£25.50 by the bottle – Read more.
2011 Saint-Aubin 1er Cru 'Clos de la Chatenière' Domaine Hubert Lamy (Burgundy, France) 
£35.95 bottle – Read more.
Do email or give us a call on 020 7244 0522  if you would like to join in and remember the words of André Simon:
"A day without wine is like a day without sunshine".
Best regards,
Robert