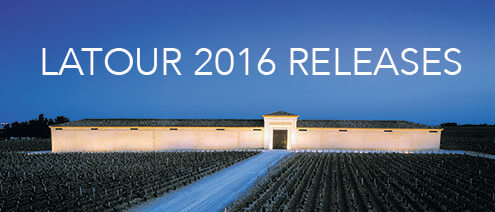 Château Latour continues its process of releasing older stock from the château as it approaches maturity. As previously the prices are above the current market, but come with the assurance of perfect provenance, complete with proof tags. There is no doubt these are two absolute crackers, the Forts being described as the best second wine that Latour has ever released, the the 2000 Latour, to use Robert Parker's phrase, 'flirting with perfection'.
The prices may seem high relative to today's market, but with a longer term perspective, this does not look crazy, because Latour 2000 has been as high as £12000 a dozen, and the 2009 Forts has been well above £2000 a dozen, so collectors may well feel that the premium for perfect provenance pales into insignificance against these price falls, and we are assured that this is the last of the 2000 Latour at the Château.
2000 CHÂTEAU LATOUR 1er Cru Classé Pauillac
£8100 per dozen in bond

(2016 release in wood cases of six bottles with proof tags)

The 2000 Latour (a relatively abundant 14,000 cases compared to what they produced in 2009, 2008, or 2005) is "packed and stacked." The extremely rich, black/purple color to the rim is followed by a wine with some subtle smoke, loads of minerals, a hint of vanilla, and plenty of creme de cassis as well as roasted meat and a slight scorched earth character. Broad, savory, and rich, the wine seems to be about 5 years away from full maturity and should drink well for at least 40-50 more years. A great effort, probably eclipsed only by 2003 and 2009. 98/100 Robert Parker, erobertparker.com

18.5+ Jancis Robinson, (Jancis Robinson.com), 99/100 Lisa Perrotti-Brown (erobertparker.com)
2009 FORTS DE LATOUR Pauillac

£1550 per dozen in bond

(2016 release in wood cases of six bottles with proof tags)
Possibly the best second wine ever made at Latour (and I love how the 1982 is drinking at age 30), the 2009 Les Forts de Latour is composed of two-thirds Cabernet Sauvignon and the rest Merlot blended with a tiny dollop of Petit Verdot, and finished at 13.5% alcohol. Juicy notes of creme de cassis, licorice, camphor, smoke and crushed rocks are followed by a rich, unctuously textured, thick, juicy, exceptionally pure, long wine. This beauty will be at its finest in several years and should keep for three decades. 95/100 Robert Parker, erobertparker.com
18 Jancis Robinson (Jancis Robinson.com), 18 Decanter
Orders (which may be by six bottles) by email to primeurs@leaandsandeman.co.uk, and we will reconfirm as soon as we are able.