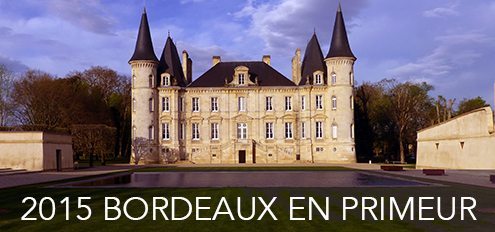 Well it's (nearly) that time of year again. Early news suggests that this really is a top-drawer vintage, but there are also reasons to believe that it may not be quite such a homogeneous success as either 2009 or 2010. In essence the issue is that some rain fell in September and early October before the harvest. The Merlots were largely either picked already, or in areas which received less rain, while the later-ripening Cabernets of the northern Médoc had more rain and longer to soak it up, which may have resulted in a little more dilution. Reports seem to suggest that there are still many top successes in the Northern Médoc, but that the vintage may be more consistent in Margaux, in Pessac-Léognan, and in the right bank where Merlot anyway tends to be dominant.
As usual the Bordeaux Châteaux are getting excited about being able to put prices up, while presumably all consumers think that they are quite high enough thank you, and are feeling rather grumpy about the negative price changes of many wines they bought since the 2008s. However, release prices have slowly retraced from the highs, and current prices for the 2012s are now (just) in positive price territory compared to release price, and the 2014s have found a bit of a market too. As a result we are probably not going to see falls, but prices rising on the back of a vintage that may well be much closer in quality to the greats than the merely good. The question remains by how much can prices rise for these wines to tempt buyers who are unsurprisingly feeling rather negative, and where does 2015 sit in terms of price/quality ratio between the more reasonably priced recent vintages and the acknowledged greats like 2005, 2009 and 2010?
After the price declines in the whole Bordeaux market since the heady days of 2011, and the reluctance of the Châteaux  to reduce prices in the lesser recent vintages, we could all say we are going to walk away in a huff, but the first decent vintage after a slow decline of prices since the last 'big one' has in the past proved an interesting time to buy.
As usual the American critic James Suckling thinks that being there the week before the rest of the trade arrives in Bordeaux for the official tastings is somehow a great scoop, even if most of the guff that gets written is meaningless in the absence of prices, so he has been blogging away and giving what can only be described as optimistic 'points', clearly determined that no other critic will outdo him in generosity. As we are all aware, there is no Robert Parker to be the ultimate arbiter of taste this year, but quite a few critics who would like to fill his shoes, and a certain inflationary trajectory seems to inform the 'points' of some of them.
A more sober assessment comes from Bill Blatch published on Jancis Robinson.com: 'a year which, until high summer, was charged with universal enthusiasm but which ended very variably. For some properties there was a truly great ending, while for others just a very good one'. He goes on to say that the wines range 'from acceptable to outstanding', but that while there is a complex range of factors at play, there is also a degree of similarity and a vintage character that emerges, with naturally quite high alcohol levels, aromatic complexity, silkiness of  suave tannins. Within this, the right bank Merlots are fleshier and fuller-bodied than on the left, and the 'Left-bank Cabernets gain in intensity from north to south, meaning that Margaux and Pessac-Léognan did very well'.
This is probably enough to know before we get to Bordeaux to taste for ourselves next week, starting with a marathon day's tasting on Sunday after an early start, so watch our Twitter feed and blog for more info (and for those of you who are truly young at heart, we might even post the odd Instagram…).
One very dampening piece of news as we look forward to this year's visits is the untimely death of Paul Pontallier who died on the 28th March, aged only 59. One of the greats of his generation in Bordeaux, Paul managed Château Margaux and was also a great enthusiast and communicator, making our visit to Margaux one to look forward to every year. He will be sorely missed. As Jancis Robinson says in her short obituary, we all began to watch how high on tiptoes Paul could get in his excitement about the vintage he was presenting  – with Margaux touted to be great this year, he would have been positively levitating.