Today is the day when we expect Neal Martin's verdict on the 2015 vintage. Many critics have already given their opinions, with a rave review (six hundred pointers and lots of 'best-evers') from James Suckling (jamessuckling.com), enthusiastic set of notes from Roger Voss of the Wine Enthusiast (wineenthusiast.com), very upbeat reactions from the teams of Jancis Robinson (JancisRobinson.com) and Decanter (Decanter.com), as well as the excellent individual reports of Tim Atkin MW (Tim Atkin.com) and Matthew Jukes (MatthewJukes.com).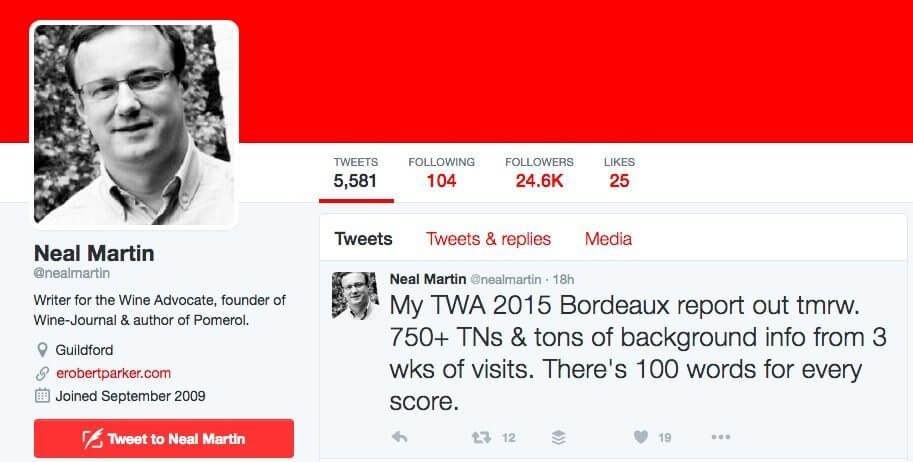 But still the market seems to be waiting for the man on whom the mantle of the great Robert Parker has descended. Last week Lisa Perrotti-Brown, now Editor in Chief of The Wine Advocate (erobertparker.com) announced that Robert Parker himself is effectively retiring from Bordeaux reporting, but will 'continue his comprehensive annual coverage of Northern California'  and that all responsibility for Bordeaux now falls to Neal. 'As of May 1st, 2016, Neal Martin will be assuming full reviewer coverage of the wines of Bordeaux – both Bordeaux en primeur and Bordeaux in bottle reports.'
Neal seemed to be bearing up well under the weight of all this responsibility when we caught sight of him at Canon La Gaffeliere this year, trying to persuade The Comte Stefan von Neipperg that the poshest accent in England was from Essex, before getting down to tasting the 2015 Neipperg collection.
In the meantime many Sauternes and a few Crus Bourgeois Médocs have been released, and some of these come recommended. As before, you can catch up with the new releases here.
For the latest en primeur news and more detailed commentary see ->EN PRIMEUR NEWS<-.