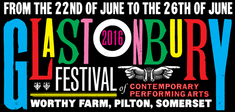 Without doubt, Glastonbury is the best festival in Britain and quite probably the world. The quality of music and the all-out entertainment is unrivalled. To get the most out of the Festival, you really need to be staying in luxurious accommodation and that is what I was lucky enough to do last week when I held a tasting at Pennard Hill Farm for 170 prestigious guests.
The line-up of wine was only just overshadowed by the line-up of performers on the Pyramid Stage and as the Sun went down, the first of the thirsty ravers arrived and were met with the following:
Fizz
PROSECCO TREVISO Spumante Brut Il Follo
White
2014 CASA DA SENRA VINHO VERDE LOUREIRO Lima Quinta dos Abrigueiros
2014 VERDICCHIO CLASSICO SUPERIORE Verdicchio dei Castelli di Jesi Azienda Agricola
2015 SANCERRE Chavignol Domaine Vincent Delaporte
2015 ZUANI Vigne Bianco Collio
2012 SAINT AUBIN 1er Cru Sentier du Clou Domaine Fernand & Laurent Pillot
Rose
2015 MIP* Made in Provence Classic Rosé Domaine Sainte Lucie
Red
2015 FLEURIE Clos de La Roilette Domaine Coudert
2010 MARSANNAY Montagne Domaine Huguenot
2012 REY DON GARCIA RIOJA Crianza Bodegas Ruconia
2008 L'EXPRESSION DE SAINT ESTÈPHE Ulysse Cazabonne
2010 MONTETI Tenuta Monteti
Our special offer Glastonbury 2016 Mixed Case can be purchased on our website for only £164.95
It was another successful tasting with all the wines showing beautifully. The 2014 VERDICCHIO CLASSICO SUPERIOR &  2010 MARSANNAY Montagne Domaine Huguenot really stood out, both can be purchased on our website.
Following the tasting we enjoyed a delicious supper of duck breast cooked beautifully by Kaboola Catering before nipping down to the Festival to experience first-hand how bad the mud was!