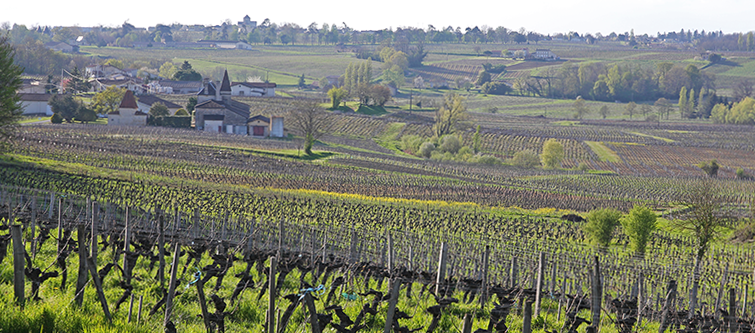 Two of our favourite en primeur value buys are now out, one from each side of the river. Many of our customers have followed these for years and the proof of the pudding is those who bought the early vintages and have drunk them are coming back for more. Both have excelled again with the 2016 vintage.
PRE-ORDERING: You can now pre-order wines that have not yet been released for which we have provided what we consider a reasonable estimate of the release price; you can set the maximum price you are willing to pay on the wishlist basket screen.
Pierre Taïx's La Mauriane is a wine produced off the best bits of a property called Chateau Rigaud in Puisseguin St Emilion. It is a limestone plateau similar to Saint Emilion itself, with bedrock on the surface at the top, combined with vines on the escarpment which drops away to one side. From it Pierre crafts a wine with glorious precision, which as Jancis Robinson remarked in her tasting note 'could be VGV' ('Very Good Value'). Well it is. Buy with confidence in all sizes, mags and double mags for parties, you will not regret it. Read more about Pierre in our previous blogs.
Stéphane and Françoise Dief of Clos Manou are similarly maniaque in pursuit of quality in their vineyard on St Christoly in the northern Médoc. Again this couple will be familiar to many of our customers and you can read more about their obsessive attention to detail in previous blogs. Suffice to say that the picture on the label shows an elephant trying to move a large pile of cases in order to dislodge the bottle on top – the painter alluding to Stéphane moving mountains to achieve tiny improvements. Again, buy with full confidence in bottles large or small.
Both are great value and come highly recommended.
PUSH NOTIFICATIONS: You can now receive push notifications on your phone, tablet or desktop – just click 'allow notifications from Lea & Sandeman' when you visit our website and a small pop up appears.
Other releases this morning are Charmail, with a much flashier wine that often at this stage, (but read Jane Anson's note from Decanter), and the solid effort from Lynch Moussas, which is slightly disappointingly at the top if our price estimate, but may look good value later. With French electoral jitters on the one hand, and the publication of Neil Martin's 'Wine Advocate' reviews (expected tomorrow evening) on the other, the pace of releases may be a little slow until next week.