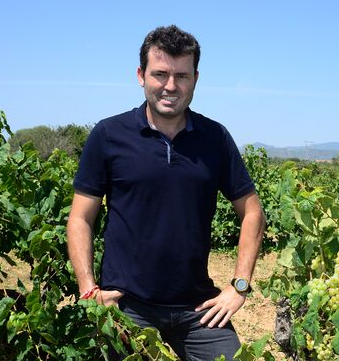 Last week we had the absolute pleasure of welcoming Albert Jané Ubeda from Acústic & Autòcton Cellers for two days of trade visits and a private client dinner at the wonderful Canham in East Sheen – see pictures below. For those of you that have met Albert you will know what an absolute legend he is and how incredible his wines are. Albert's approach to winemaking is very refreshing. He only uses indigenous varieties (Autòcton is taken from the word autochthonous reflecting the indigenous varieties used). It's something close to his heart and it makes perfect sense. Why use other varieties when you have beautiful ones on your doorstep? Much like British restaurants championing British produce. Albert told us last week that if you have good vines you'll make good wine. Perhaps a slightly modest view of his skills as a winemaker but one that is held by many of our producers. Minimal intervention, no pesticides and wild ferments are all part and parcel of his winemaking techniques. The wines are brilliant and truly reflective of their terroir.
Albert started helping on his family's vineyard when he was 14. It's in his blood. Although he has now come back to the family home in Penedès to produce his Autòcton wines (more on this below) he decided that he wanted to branch out. This led to the founding of Acústic in Montsant and in 2004 the first vintage of Acústic red & Brao were produced. In 2007, a very small quantity of Auditori was released. This was Albert's foray into a single-vineyard, single-varietal wine. The result – Magiques! A few years later he stumbled across a plot of old vine Garnacha Blanca and Macabeo. The first vintage was the 2009 and it was released to critical acclaim. He told us that the 2009 is still drinking superbly well so if you have some in the cellar crack open a bottle and see how well it is developing. A quick note on the name Acústic; it relates to the wines being unplugged, not amplified by lots of manipulation. There is a pure harmony to them. There's also a small ode to his passion for music. He told me that he finds music very emotional and he feels that making and drinking wine can be very emotional too. I think that is something that we can all relate to.
We have been working with Albert since his 2005 vintage and have always been a huge advocate of his approach to winemaking. The varieties, as mentioned above, are all indigenous to the area. Garnacha & Carignan make up the red production and Garnacha Blanca & Macabeo the white. All the vines are between 30 and 105 years old and are planted on harsh, stony soils of sand stones and clay. Working organically since his first vintage in 2004, all the grapes are hand-picked. Vinification is traditional (small wooden press), there is a very prudent use of oak 'a good barrel is a barrel you cannot taste' says Albert, it should 'help the wine express itself not actually add its own mark to the juice'. All wines are then bottled without fining or filtration. The result – wonderful expressions of local varieties at their very best.
Fast forward to September 2016, after many wonderful vintages of Acústic wines and we get an e-mail from Albert telling us he has been working on a new project. Exciting. Of course, these are his Autòcton wines. The vines are in the DOs of Tarragona and Penedes (60km south of Montsant) but, as Albert explains, 'I don't care about DO I am looking for very very exciting vineyards'. Being part of a DO would be too restrictive to what Albert is doing here. The whites are made with very old vine Xarel lo, Xarel lo Vermell, Macabeu and Malvasia de Sitges and the reds from old vine Sumoll and Ull de Llebre (Tempranillo). These are very obscure varieties (by name at least). Certainly, not blends I have seen before. The Autocton wines are aged in a mixture of large oak barrels and stainless steel while the Gran Autòctons (grapes from older vines) see a longer proportion of ageing in large oak barrels as well as time in small clay Amphora – currently these are from the South of France. However, Albert is looking to have some made locally from the soils that are present in the vineyards. Quite an exciting prospect. The resulting wines are very different in style to those of Acústic. They feel lighter on the palate. That's not to say they lack complexity. Quite the opposite. The Gran Autoctons should age very well. This is a very exciting project and one that we are over the moon to be bringing in to the UK. Albert now bases himself at the family home, the old Masia, which is above the cellers of Autòcton. If you ever get the chance to visit Autòcton you'll get to meet Chipirones – the resident rooster. Apparently, he is quite the character. So much so that his image has made it onto the label of the Autòcton wines.
One could go on and on about the joys of Albert's wines, what a charming man he is and how infectious his passion for winemaking is. These attributes really shine through in his wines. If you have old vintages of Acústic (white & red), Brao and Auditori in the cellar there's no rush to drink them. However, if you have more than a bottle tucked away it would be well worth your time to crack one open and see how wonderfully it is developing.