Trip to Gosset Champagne: Monday 6th – Tuesday 7th November 2017
What a treat it was to visit the Gosset estate and vineyards in early November. The trip comprised a diverse range of eager folk all involved in different areas of the wine trade. From sommeliers to retail, the excitement amongst all of us was clear, even at 07:30 on Monday morning at St Pancras International.
We left promptly and headed for Reims changing trains in Paris. We were treated to French pastries and some Gosset Brut Reserve on the train, which certainly accelerated our excitement even more for our French arrival. After a short break, we left our hotel in the centre of Reims, and headed for three different Vineyard sites.
We first visited Verzenay, which is a region famous for growing Pinot Noir. Verzenay is located North-East of Epernay. These vines are protected from heavy winds by the hills. The grapes grown here are 100% grand cru and are planted on beautiful rolling slopes. During the First World war, Verzenay proved a key area for defending the city of Reims and was also a safe heaven for many soldiers and civilians because of the vast amount of deep wine cellars in the surrounding area. Following our visit to Verzenay, we moved to other more Chardonnay dominated regions lying close to the Cote De blancs. Kalina explained that during the harvesting month of September, many volunteers from local universities give up their time to help harvest grapes for production.
After our extensive vineyard tour, we headed back to the beautiful city of Reims where we were generously treated to the flagship Gosset Grand Reserve and a local French café, whilst looking out on the peaceful streets. Following this we had a brief walk around the city, including a visit inside the classic Reims cathedral.
That evening we were treated to a gourmet explosion at Le Millénaire. For each of the delicious courses, we had a pairing from the Gosset estate. The rose worked perfectly as an aperitif whilst we browsed the food choices. We then moved on to the Blancs de Blanc which partnered my starter nicely, followed by the 2006 Millesime partnering the hearty main course, and finishing up with the Cognac from Frapin. Gosset were bought by Frapin in 1991 by Monsieur Cointreau, who we were to meet the following day at the Gosset Estate.
After a good nights sleep, we journeyed to Epernay to visit the Gosset Estate. We first toured the fascinating tank rooms with the knowledgeable and gifted cellar master, Odilon de Varine. We given given tank samples of the base when, which was interesting, because you had to imagine the finished product, which wouldn't be realised for a couple of years. He explained how unlike any other champagne house, the chardonnay grapes are sometime blended with the Pinot Noir lees, which increase the depth of flavour and show a pink tinge in the base wine. Gosset are also known for not using Malolactic fermentation in their production methods.
After a guided tour of the tank room, we were taken by Kalina down into the historic Gosset Cellars. We witnessed the next stage of the development process, once the wine is bottled. We saw first hand how the yeast builds up in teh bottle before disgorgment, and even witnessed grafity from the Second World war from American GI's who had visted the cellars. It was certainly fascinating and atmospheric to say the least.
Just prior to lunch, we were lucky enough to have a short tasting with Odilon de Varine. Who ran through what we had learned earlier on in the visit and how all those factors had contributed to the taste and presentation of what we were drinking.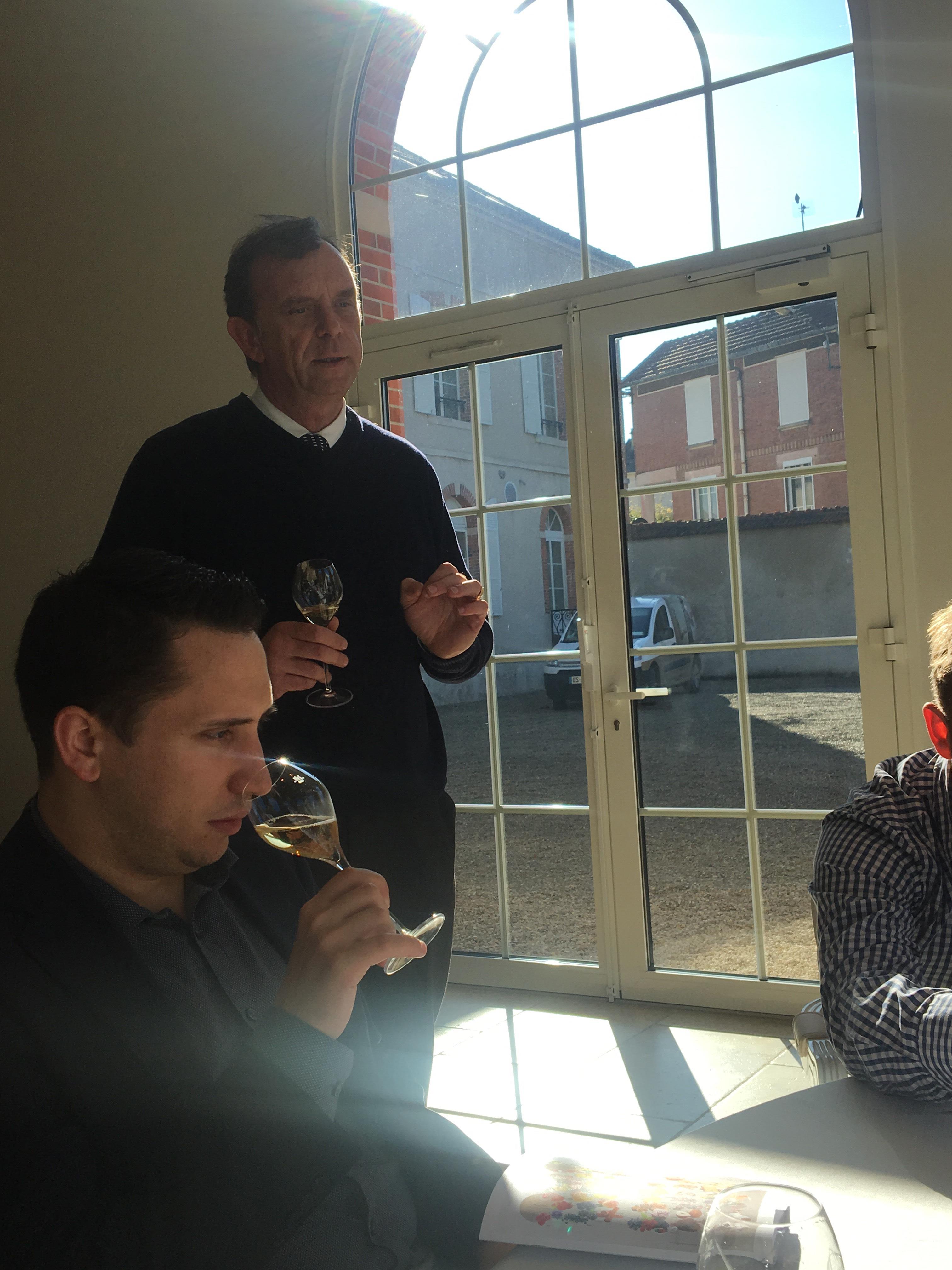 After our extensive cellar tour and tasting, we were again treated to a three course lunch with Monsieur Cointreau, the estate owner, explaining how the estate has changed under his leadership. A man who had originally been a cognac producer, filled us with enthusiasm with his passion and determination to make Gosset and Frapin what they are today.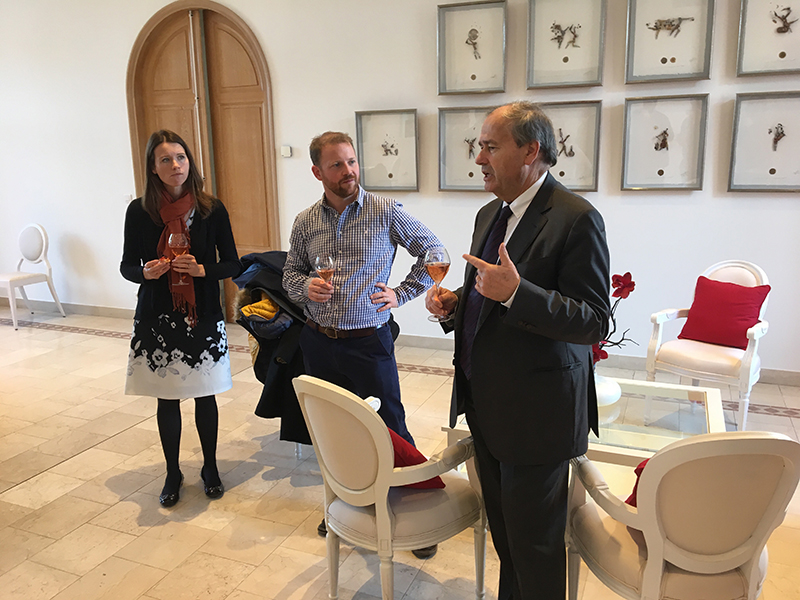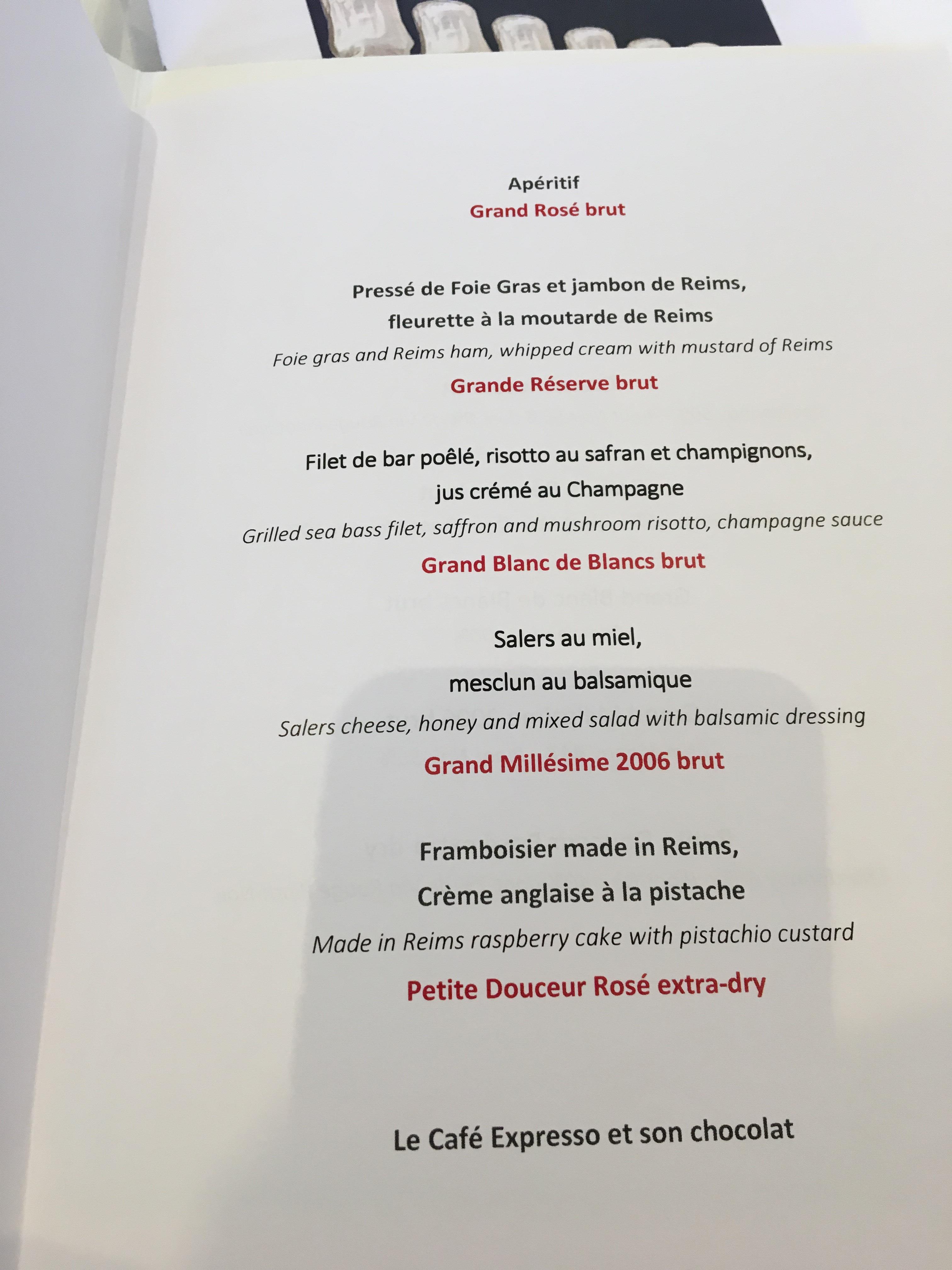 After our lunch of indulgence, we bid farewell to Monsieur Cointreau, Kalina and the Gosset team and headed back to London on the Eurostar. I can't tell you how exciting, informative, and beneficial this trip was. I came away learning so much more about champagne production, Gosset, and certainly bettering my pallet with luxury French Cuisine.