It's no longer breaking news that in 2021 Mother Nature threw everything at vignerons – across France – but in Burgundy the punishing impact on the vineyards, and on the yields, seemed somehow more tangible. This is largely down to scale of course, but also a particularly cruel string of events that meant there was sometimes nothing that could be done to save the crop.
The Frost
The real issue stems back to the brutal frost in early April which ravaged much of the vineyards for 3 days on the trot – reaching an astonishing minus 7 degrees. When I visited Henri Boillot in November, he told me that it was quite unbelievable. For generations nobody there can recall such an extreme and prolonged dip. He recounted being up all night on the 6th & 7th of April – lighting candles and fires in the vineyards and then watching the snow settle around the burning candles, not melting! It was just too cold to counter the extreme frost.
The Chardonnay grapes which are more precocious than Pinot – were already beginning to emerge and the buds were burnt off by the frost. Meursault the worst hit of the villages, lost 90% of their crop to this onslaught of frost. In Chablis, where the Chardonnay usually starts budding a bit later, they were slightly less affected overall – as the vines were less fragile at the time the frost hit – but they are still down by at least 50% on average.
Pinot Noir also flowers later, and the 2021 reds usually avoided quite such decimation – but a damaging start to the season and then a cool damp spring and summer meant that all fruit growth was limited and complicated. Hail in June cruelly struck more vineyards – further reducing the eventual harvest. However, on the back of my visits and Charles' trips too – I am pleased to report that what we have got, what canny vignerons managed to salvage – is really rather wonderful.
The Whites
It's Burgundy as you might expect it, how you might picture it in your mind somehow. We've had a run of charming, sleek and polished releases over the last few years – which have been delicious – but 2021 is different, offering more purity – more energy and more focus. The best whites are scintillating, edgy and mouth-watering. Real zip and drive makes them deeply moreish. These are wines you really want to drink. And as they are not broad and laden with cushions of soft fruit, they are honest and very fine transmitting their terroir superbly. Puligny is so clearly 'Puligny' with muscle and mineral drive – Chassagne has purity too – but it is just so 'Chassagne' in 2021. This may seem trite – but the top wines of 2021 really capture that sense of place.
The Reds
They are pure, elegant and floral on the whole, brimming with red fruit and lithe vim. Some with great concentration too. Great growers have really proved their worth in 2021 and we are fortunate to work with some real stars. Great vineyards too have also shown the star quality. In more tricky years, the best sites often do stand up – and one is rewarded for going for the original 'classics' – those sites identified centuries ago by the monks who classified the vineyards here. In the beginning – they denoted 1er Cru and Grand Cru status to the top sites for ripening the grapes consistently in the cooler years that were so much more common then. In warmer years, the lines can be blurred somewhat perhaps – but in a cooler, more challenging year – the quality does come out!
2021, a vintage for the purists?
Some are calling 2021 a classically-shaped vintage – others say it is a vintage for purists – and these thoughts are true. However, my overriding feeling as I drove back to Lyon after a week amongst the vines, was that it is a vintage of wines I would like to drink. There is a freshness and a poise to both reds and whites, that is captivating and deeply attractive.  There are of course some howlers in 2021, where the less talented or the less experienced have struggled to coax the vines to maturity or adapt their approach in the cellar. I am sure for some growers the fresh and bright whites may veer into the shrill and austere – the reds lacking punch – but fortunately our producers have pulled it out of the bag.
What to expect from our Burgundy 2021 campaign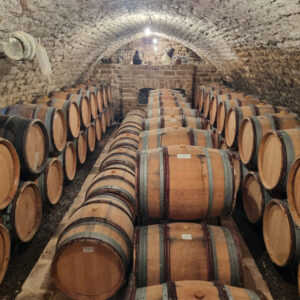 The downside is the scarcity of wine. There really is very little to go round. Therefore, in the first instance we are sadly having to tightly allocate almost everything – prioritising initially all previous, loyal buyers.
With demand continuing to grow for almost all wines from Burgundy – it's an added frustration that this year we have far less wine than usual – our sympathies are of course with the vignerons, who work even harder in tough vintages – and the rewards are so much less.