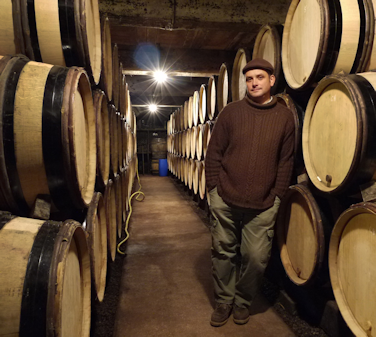 Domaine J. Confuron Cotetidot
France, Burgundy
Vignerons since the seventeenth century, the Confuron family has always selected and propagated vines to ensure that their plant material produces the highest quality, and they even have a clone of Pinot named after them - 'Pinot Confuron'.
The domaine has several Grands Cru vineyards as well as two hectares of the great Vosne Romanée Premier Cru 'Les Suchots'. There are around 12 hectares in all. The vines have never seen chemical weedkillers, and are ploughed and managed organically.
The Confurons have always used whole-bunch fermentation, picking very late, which really is a necessity if the stems are to be properly ripe and not give green flavours to the wine. A bit like the Thévenets with their whites in the Mâconnais, they pick so much later that they can seem to have different vintages to everyone else. Yves thinks that 2007 was their great vintage of the first decade of this millennium, and he'd probably be the only grower in the Côte de Nuits who would say that. Yves also makes the wines at Domaine de Courcelin Pommard, in the same way.
Yves, opinionated and laconical as ever, dismisses those who make pale wines by 'infusion' and says that failing to get the whole bunches properly ripe - and using all the bunch - is failing to get everything the terroir can offer. The wines he makes are dark, richly concentrated, and often hard to taste in their development, but experience shows that they age brilliantly
In the autumn of 2016 we took writer Greg Love to visit Confuron, and he subsequently posted on his Facebook "Like being tied to the railway tracks with a Eurostar train bearing down on you at 300 kmh, the 2015 Confuron Cotetidot wines are the biggest mind benders of the vintage. Yves and Jean Pierre Confuron of Vosne Romanee have produced a set of explosively dynamic and operatic wines across the range, that demonstrate an exemplary terroir focus and great freshness. Young vignerons who pursue soft infusions without the requisite standard of vineyard work would do well to consider just what it takes to bring out the deeper layers of Burgundy's terroirs by looking at the work of the Confuron team. Their 2015s are a legendary set of wines that are arresting, pure and electrifying and will stand as monuments to what great Burgundy, made in a deep, whole bunch style, is capable of delivering. Chapeau Yves." ... which just about sums it up. L&S (Nov 2016)
On the 2018s and ripe vintages in Burgundy: "Yves, opinionated and laconical as ever, dismisses those who make pale wines by 'infusion' and says that failing to get the whole bunches properly ripe - and using all the bunch - is failing to get everything the terroir can offer. The wines he makes are dark, richly concentrated, and often hard to taste in their development, but experience shows that they age brilliantly. He is sure that, if anyone could remember, the 1947s when young would have tasted like these young 2018s. He says that the vintage was exceptionally hot, with a hot wind from the north, so very concentrated berries, and the result is a Rhônish profile - which seems logical to him. Flavours of black cherry and dark chocolate coming from the sucrosity of the ripe tannins. "I say the opposite of everyone else - a wine can be rich and durable - rich and balanced." He mentions the 2003s, which were wines we discussed along similar lines at the time and which frightened some buyers. We agreed that although the acidity was on the low side, there was plenty of tannin and the wines would age on the tannin rather than the acidity - and opening 2003s now proves this point, as his are still fresh and youthful. But the 2003s were always less well-balanced than the 2018s - the drought of the year resulted in tannins that remained dry, and while they may soften more with time, some will remain. The 2018s, by contrast, have tannins ripened to perfect sweetness and the resulting liqueur-like wines are in an extraordinary balance and will age unbelievably. Like the 1947s?" (Charles Lea, November 2019) L&S (Nov 2019)
While tasting these wines at Lea & Sandeman, I was given a spontaneous lesson on the domaine from a fan. He informed me they are a very traditional producer who use 100% whole-bunch fermentation for every cuvée, not in pursuit of trendy stemmy aromatic character but because it is the old-fashioned way. The winemaker Yves Confuron apparently gets up at 6 am to make wine at Domaine de Courcel before returning to work at the family estate in the afternoon. I was particularly impressed by the great variation in flavour they conjure from their various vineyards, all of which seemed to adhere to the classic expectation for their appellation. Richard Hemming MW - www.JancisRobinson.com (Jan 2018)
Yves Confuron: Since his parents almost adopted me when I was a young journalist who wanted to understand Burgundy wine from the inside out, living it with those who produce it, I knew him as a boy, along with his brother Jean-Pierre. But Yves needs to be defended a little more, his passion for authenticity and his high ideal of quality are out of fashion these days. Today, more superficial wines produce an immediate effect that rich tasters, lacking in culture, overestimate and overpay to the delight of speculative traders. If Yves is often seen as touchy or cranky, it does not take a real enthusiast long to gain his confidence. He can then deploy a rare agronomic and oenological knowledge in the small world of the winegrower owners of his village and better understand the magnificent wines, free from any compromise, which he has the courage to design and produce with his brother, on great terroirs treated as they deserve. Michel Bettane, from an article entitled 'La Trace des Grands - For 30 and 40 years, we have followed their impeccable journeys. Here are the ones that impressed us the most. more and less known, we will not forget them' En Magnum, Bettane & Desseauve (Apr 2022)