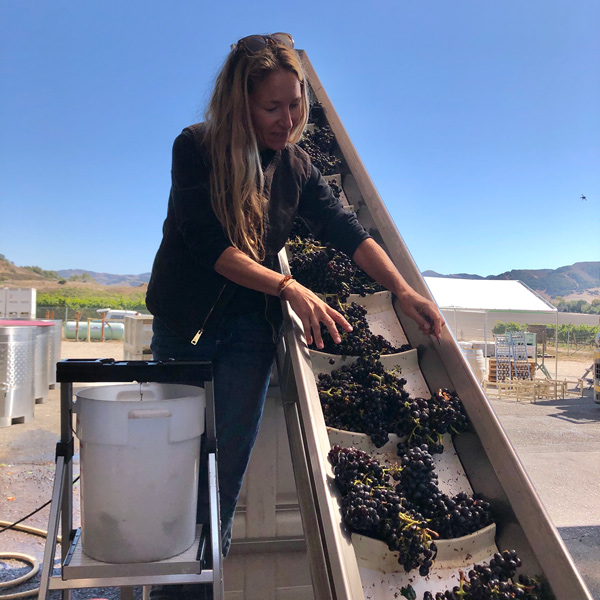 Tribute to Grace
USA, California
https://gracewinecompany.com/
'A Tribute to Grace' is winemaker Angela Osborne's project to craft wines which focus on the aromatic and silky qualities of Grenache. The 'Grace' in the name is not only a reference to her beloved grandmother but is a mantra for Angela's life and approach to winemaking. Grace is also what Angela finds in her treasured Grenache, particularly in the wine that inspires her: 1999 Château Rayas.
A native of Auckland, New Zealand, Angela fell in love with the storytelling of wine when working in wine retail while also studying film-making. In the six years Angela worked in retail, she never came across a single-varietal bottling of Grenache, however, after a three-month internship in 2002 at Simi winery in Sonoma County, California, she finally had her epiphany moment after tasting a Dry Creek Valley Grenache.
Returning home, Angela knew that she had to produce her own expression of this intriguing variety but wouldn't be able to do so in New Zealand's cooler, unsuitable climate. She considered several vineyard locations in Europe and Southern Australia, but after a brief stint in London, Angela returned to California in 2006, settling in Santa Barbara.
Santa Barbara is probably best-known for producing Pinot and Chardonnay, but is also capable of producing world class expressions of Rhône varietals, which have been cultivated in California for over 100 years.
The 'Santa Barbara Highlands' vineyard sits at 3500 feet elevation in the Sierra Madre mountains on a layer of decomposed granite and clay loam. Here, the 17-year-old "Tablas A" clone produces a vibrant, well-balanced expression of Grenache, full of rhubarb, red berries, and baking spices.
The 'Shake Ridge' vineyard in the Sierra Foothills AVA is at 1700 feet elevation on a bed of rose quartz. The combination of soil profile and diurnal temperature shift (around 10°C) results in a unique expression of Angela's favourite clone (362), which is delicate, pure, and haunting.
Site selection is the key, and dictates the differences of each wine. Angela employs restraint in the cellar, working with native yeasts and to biodynamic principals (including the lunar calendar). The wines are elegant, nuanced and complex, and in shape more like Pinot Noir than the boisterous styles of the southern Rhône.
This is a fabulous set of wines from proprietor Angela Osborne. The 2019s are a brilliant and precise expression of place. Osborne describes 2019 as a long growing season, but with some heat. All of the Grenache was harvested in October, so on the late side. The wines are done in an understated, minimalist style that emphasizes freshness, often with some stem influence, and typically aged in neutral oak. Antonio Galloni, www.vinous.com (Jan 2022)