Two hundred and fifty people, from twenty five of the City's leading companies attended last week's City Fine Wine Challenge, at the Royal Institute of British Architects, a fund-raiser for the NSPCC. This is the fifth year that Lea & Sandeman have been involved in what has rapidly become one of the most popular and important fund raising activities in the NSPCC calendar. A champagne reception was followed by an interactive quiz, Patrick Sandeman acting as 'quiz master'.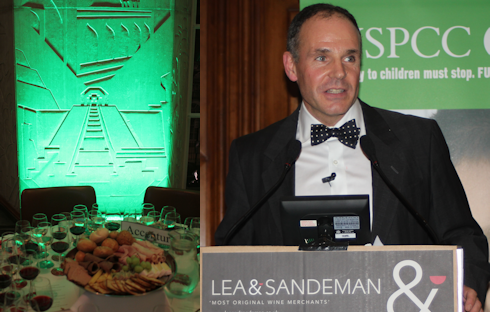 The rest of the L&S team poured over 1500 glasses of wine. All of the wines consumed and sold during the course of the evening were donated by Lea & Sandeman in order to help generate a massive profit for the NSPCC.


The event was well supported by the trade, donating prizes for both the business card draw and auction (Charlie Ross acting auctioneer) including jeroboams and large formats of Veuve Clicquot, Taittinger, Pol Roger, Gosset and Niepoort, as well as meals at The River Cafe, Le Cafe Anglais, The Bleeding Heart and Mandarin Oriental.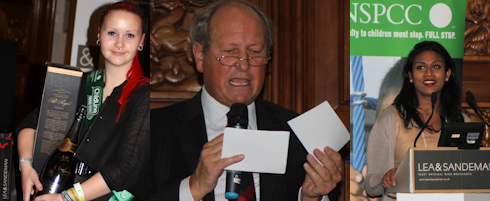 Other popular auction items included a Vintage Port and chocolate tasting (Lea & Sandeman with Demarquette) and a stay in a Tuscan renaissance villa. The overall sum raised on the evening was in excess of £121,000.00.
2010 CITY FINE WINE CHALLENGE – The Wines
Champagne BENEDICK Brut
2009 FIÉ GRIS Domaine de L'Aujardiere

 
2009 RIESLING Traditionale Pikes Polish Hill River Estate

 
2008 MONTAGNY 1er Cru Jean-Marc Boillot

 
2008 ALTITUDE Pinot Noir Two Rivers of Marlborough

 
2007 AMANCAYA Bodegas Caro

 
2007 LIRAC Rouge Cuvée de la Reine des Bois Domaine de la Mordorée