For once flying with Ryanair to a destination which is located miles from the city centre that is billed works in your favour if you are planning a trip to Friuli, as 'Trieste' airport is most conveniently located only twenty minutes south of the vineyards of Collio, as opposed to twenty miles from the city. A long overdue visit to the region by myself and Mrs S. combined tastings at Zuani, I Clivi and Visintini, as well as a day in Slovenia's Brda vineyards straddling the border.
It is a beautiful region with the backdrop of heavily wooded mountains in Slovenia framing the neatly tended vines of Collio which cover most of the hilltops and slopes as well as much of the plains below. Ours was a mission to better understand this region and the wines that are produced there and, with Slovenian wines trying to make their way into this market to find out what it is that makes them so different. Some fifteen years ago we did bring in some Slovenian wines from Movia, made by the rather eccentric Ales Kristancic, and they were a stuggle to sell (understatement?).
Collio, a name which is derived from 'colline', meaning hills, conjures up images of sloping vineyards and of which there are many and this is where the best producers are located. However, although the overall region is quite small, it is also evident that there are far more vineyards on the plains producing large quantities of somewhat more indifferent wines in industrial quantities. The Collio vineyards are also divided between Collio (Goriziano) and Collio Orientale del Friuli (COF), separated geographically only by the otherwise insignificant river Judrio.
Having arrived in a blast of heat (37C) we were met at the airport by Patrizia Felluga's charming daughter Caterina, and taken to our accommodation at the Relais Russiz Superiore in order to sit out the heat of the afternoon before heading to Zuani's vineyards in the early evening.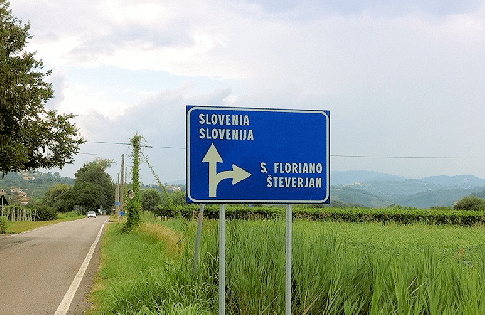 The road to San Floriano skirts the Slovenian border and, indeed, Zuani's vineyards all but straddle it with fabulous views up to the mountains. Patrizia only produces one wine – a blend of Chardonnay, Sauvignon, Pinot Grigio and Friulano, but in two versions, one oaked and the other not. It is the unoaked version that we have always found most successful, and although we have always sold it as a youthful, fresh wine for drinking young, though never lacking in elegance and complexity, we have not had experience of drinking her wine with bottle age. Patrizia opened eight vintages from the current 2010 back to 2002, and it was an extraordinary revelation. It was not simply a case of the wines having stood up to the passage of time, but in the best vintages, notably '07 and '04, they had evolved into something that was quite amazing, and one would be hard pushed to place them outside of Burgundy even. Amongst all of this Patrizia insisted on opening a bottle of her 'dream wine' which, was quite surprisingly, 'Baron de L' 2006, but which, in my opinion, was less fun to drink that any of the vintages of Zuani (including even the rather ungainly 2005).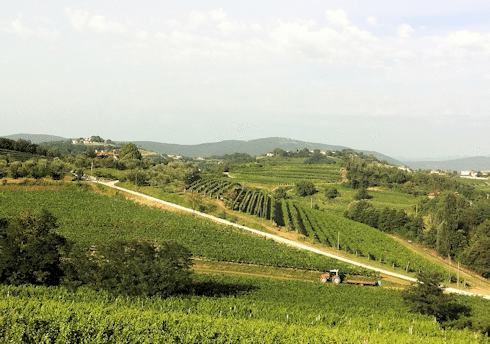 Into Slovenia
The following morning we heading across the border to Slovenia's Brda district and our first visit was to Edi Simicic from whose cellar you could look directly across to Felluga's Villa Russiz vineyards. Aleks Simicic bills himself in his literature as 'stubborn, persistent, hard-working, open-minded, and a man of action', and I am not one to disbelieve him. Certainly his wines are all worked to the maximum, every one of the whites undergoing lengthy maceration and a minimum of eleven months in oak, and the reds up to three years. These are heavily textured wines with notes of dried fruits and herbs, but their mineral finish marked with a note of tannin.
A few minutes drive down the road to the fifth generation business of Scurek only to find that our pre appointed appointment clashed with their lunch and we were asked to come back in an hour! So, one hour on (and after a light lunch of our own) we were welcomed by a very laid back Tomaz, one of five sons involved in the business, and looking forward to his annual break. Here we tasted a rather more approachable range of white wines made of Rebula (Ribolla Gialla), Sivi Pinot (Pinot Gris), Chardonnay and Sauvignonasse (Friulano), as well as a not bad Pinot Noir. Again these wines undergo lengthy maceration before fermentation and, although largely unwooded, those wines that are, are aged in a combination of oak and acacia wood barrels, which was a first for me. Tomaz bemoaned the fact that they are no longer allowed to use the name Tocai or Friulano and since they had had to label with the name Sauvignonasse their sales had dropped by sixty percent.
Next door, all but literally, is the relatively new business of Pulec whose winery is being totally overhauled, including the 80 foot border lookout tower dating back to the days of Communist rule, so we did our tasting in the family-owned pizzeria next door. A similar range of wines here, though perhaps the most modern in that skin contact is kept to a minimum, oak is only used in the top wines and the wines are really quite expressive. Good wines and worthy of consideration but, as we drove away heading back across the border to Friuli, it dawned upon me that not one of these three winemakers had really spoken about their vineyards, let alone offered to show them to us, and that their focus was entirely upon their wines in the cellar. A throwback to the old days of Friuli perhaps?