Our bed & breakfast in Corno di Rosazzo was billed as being in the middle of the vineyards, and indeed it was, with views up to the Abbazia di Rosazzo, and within spitting distance of both Visintini and I Clivi. However, any thoughts of a peaceful night were quickly dashed first of all by fireworks at midnight, thunder and torrential rain for most of the night, and finally mosquitos early morning. The fact that we had shared the best part of a cow at dinner the night before, in a wonderful restaurant in Buttario famous for its 'fiorentina' steaks cooked on an open grill, did not sit lightly either.
With time on our hands on Saturday morning before our first appointment we headed up to the capital city of Udine, once a wealthy seat to the chair-making industry that thrived in the region. In spite of the fact that this business has all but disappeared to the Far East, Udine still seems to be thriving and is full of glamorous shops between the beautiful and ancient piazzas below the castle. A lovely place in which to wander and take the sites of an Italian city at work and at play.The contrast with the I Clivi vineyard is really quite striking. On the hillside overlooking the valley down towards the plain of Cormons, this is a true haven of wilderness. Gnarled old vines on slopes that are only workable by hand, surrounded by woodland and olive trees, teeming with butterflies and other insects among the wild flowers and grasses, one immediately understands that these are natural vineyards which are full of nature.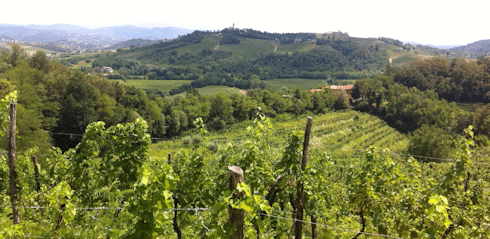 Mario and Ferdinando Zanusso took over these old abandoned vines in the 1990s and rebuilt the old house and cellar that had previously been destroyed by earthquake and have since set about making wines as naturally as possible. Organic treatments in the vineyard and minimum intervention in the winery result in beautifully expressive wines of great purity. As Mario walked us through the vineyards he commented that 'ninety-nine per cent of the wine is made in the vineyard'. He went on to explain that they use a champagne press to press the grapes, looking only to extract the 'fiore', the 'flower' of the juice, thus only extracting about sixty percent of the juice. The rest he says is not worth extracting because not only does it introduce rustic elements to the wine, which then need removing with bentonites, and why add things if you only have to take them away again, but also because it means that they can quickly move on to the next batch of grapes as they come in from the vineyard.
Sitting under the veranda to their house, with the simplest but most delicious bowl of pasta with fresh tomatoes, basil, olive oil and bread, we went on to taste the wines. With no skin contact at all these are wines that are fermented using the vineyard's natural yeasts, undergo malolactic fermentation, spend time on their 'lees' in stainless steel (up to two years for the single vineyard wines) with no oak, racking or filtration. As Ferdinando tells us it is simply grape juice made into wine. The Galea (Collio) and Brazan (COF) vineyards produce fascinating and different expressions of Friulano, the first full bodied, deep and earthy, the second more floral with notes of honey and liquorice, but both full of spice and herbs, pure and long. The surprise for me here is always the Verduzzo, 'a red wine in white' as Mario says, since Verduzzo is a part of the red wine family, chock full of flavour and character (so much more so than the sweet version), with body and definite tannins it is a white wine for red wine drinkers and was perfect with a chunk of fresh parmesan. What had started as a tasting had evolved into a joyful and pleasurable lunch, and a siesta on our busman's holiday was now in order.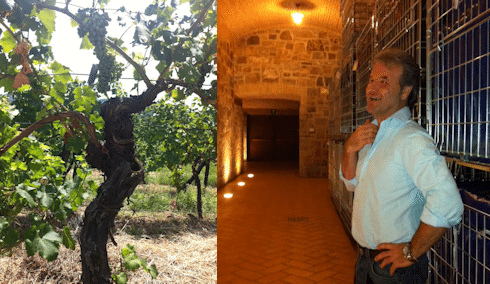 The Visintini family were out in full force to meet us; Oliviero and his two sisters, Palmira and Cinzia who together run the business, their mother 'la nona', Palmira's three year old daughter with a mop of blond curls, and the two sisters' boyfriends, all of whom followed us around the vineyards and the cellars, watched our every expression as we tasted and came on to dinner that evening in Civadele. A family affair.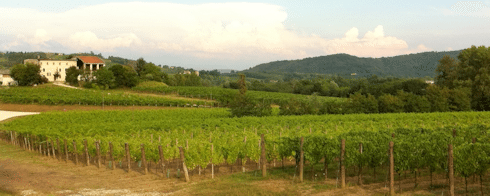 Oliviero and his sisters have transformed their family vineyards and cellars into a quality producer that is now among the best in the region. Oliviero's passion for his vines has led him to work biodynamically and set up a small consortium of other growers in the region so that they can do so in harmony. He has also rebuilt the cellar so that they can work as efficiently yet naturally as possible, and this is reflected in the quality of his wines which only ever seem to improve from one year to the next. In spite of his Pinot Grigio 'Ramato' being our best seller, he was perhaps understandably more keen to talk about their Friulano, Ribolla Gialla and Pinot Bianco, all of which we tasted from the 2010 vintage. Once again I was surprised by how well these wines can age when he showed us a remarkable bottle of 1999 Pinot Bianco, from a great vintage, he says, but an era when the cellar was not quite up to speed. Deep gold in colour, richly aromatic and textured with beautifully evolved flavours, some sweet, but dry and still so lively and fresh, I could not help myself but drink it!
Cividale is a beautiful town and full of life. Now a UNESCO heritage site the old town on the banks of the gorge overlooks a bridge that is reminiscent of that of Ronda. Oliviero, and family, treated us to a lengthy dinner of 'slowfood' from local Fruilian suppliers, accompanied by a huge number of wines. As we wandered around the town late at night beautiful music was in the air, and we came across the closing scenes of a performance by part of the Russian National Ballet touring the region. It was an almost incredible end to a wonderful day.
Another advantage to the location of the Friuli-Venezia-Giulia airport, as it is correctly known, is that it is only twenty minutes from the coastal town of Grado, an ancient fishing port and seaside resort that sits on the edge of the Laguna di Grado, and an ideal place to hang out before the Ryanair flight home. A word of caution however; avoid the seafront and overcrowded beaches (you can only get onto them if you rent a lounger!) and head for the beautiful old basilica and the bars around it. Friuli and its wines deserve greater recognition, and I for one look forward to returning very soon.