A two day trip to Piemonte with Julia Harding (www.jancisrobinson.com) and Emily O'Hare (River Cafe) to indulge in our new found love of all that is Nebbiolo, and of course possibly the best pasta in the world.
The approach to Turin was breathtaking as our plane circled the snow covered mountains with the sun dipping behind them, but the drive to Alba was made longer by particularly bad traffic, so it was swift check-in at our hotel before walking into the centre of town for dinner. Lalibera is a modern trattoria of the sort that at once makes you feel that you have hit the jackpot, with an awesome wine list, incredibly reasonably priced, and simple but fabulous food. A bottle of Arneis (Vietti) with our starters was a perfect aperitif before an indulgent bottle of Elio Grasso's 2005 Barolo 'Runcot', even if it was a little oaky in my opinion. My choice of homemade spaghetti with wild rabbit and artichoke 'ragu', however, was a triumph.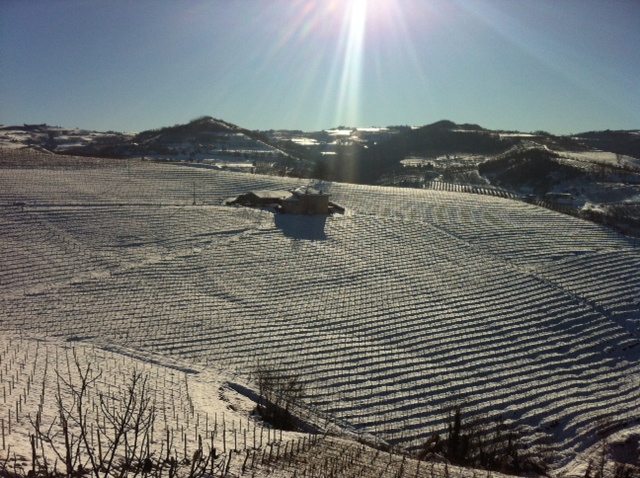 Snow covered landscapes and stunningly clear blue skies the following morning made one think of being in the mountains and skiing, but we turned our attention only to wine as made the short drive south to Bricco Maiolica and taste with Beppe Accomo. Beppe is the fourth generation to make wine at this property which is made up of just one large twenty-one hectare vineyard, sweeping like an amphitheatre around the winery. Traditionally Dolcetto was the most popular and widely grown variety of the region, but over the past three years has rapidly lost favour and Nebbiolo is now king, in more ways than one. After much discussion about the organic practices they use in the vineyards we headed inside for a tasting of the entire range of Dolcetto, Barbera, Nebbiolo, Chardonnay and even Pinot Noir made by Beppe. These are simple, but very expressive wines with an easy and pure approach. A great start to the day's tasting.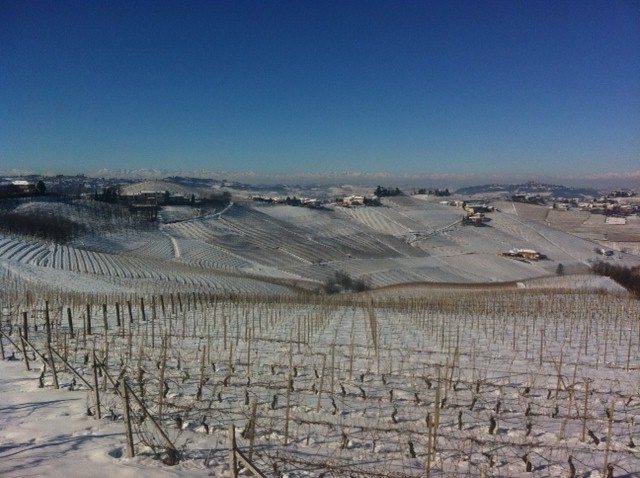 The drive to Sottimano's estate takes you over the hills to Barbaresco with breathtaking scenery all around. Andrea led us down a small back road to the tiny hamlet of Cotta', where his father had bought the house when they started making wine, specifically for the old cellar beneath. Whereas it might once have housed livestock, today it is full of large oak barrels, although a suspected broken drain after the recent cold snap made the place still stink of 'animal'. At Sottimano they only use 20% new oak, but even that is not a fixed rule, with only 10% used for the 2009 and up to 25% for the 2008, the wines undergoing malolactic fermentation on the lees for anything from eight to twelve months, before being racked off into older oak. Everything is done with the minimum of intervention, very little racking, and no fining or filtration so that the wines make themselves and retain the expression of each individual vineyard. This proved to be the highlight of the day and tasting the different 'crus' from both 2008 and 2009 vintages was stunning. While the rich and powerful 2009 vintage will undoubtedly have massive and broader appeal, I found the 2008s more nervy, making them exciting and expressive at the same time. I noted the Pajore as being particularly outstanding, but what perhaps surprised me most of all was Andrea's Dolcetto 2010 'Bric de Salto', a fabulously crunchy, juicy, almost austere light red that put one in mind of drinking it with salami and fresh parmesan. So, very much at Andrea's insistence (he has no notion of a 'sandwich lunch') on to the local trat we went and each enjoyed a simple bowl of the most amazing pasta, apparently freshly made that morning, using thirty eggs per kilo. Andrea was quite disappointed that we did not have time for a main course too.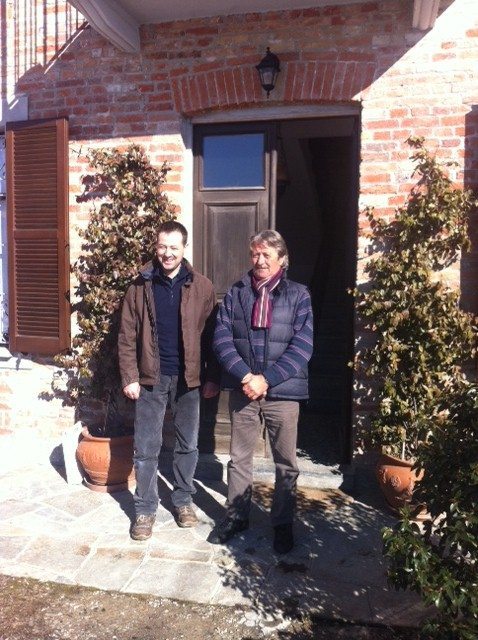 Typically, we were now running an hour late and the drive to Luigi Einaudi in Dogliani was not helped by our satnav insisting on taking us to the centre of the town rather than up the hill to the winery. It is immediately obvious that the Einaudi operation is not only well established and wealthy, but also quite large. They are one of the largest producers of Dolcetto (170,000 bottles, compared to 50,000 of Barolo), but as Matteo Sardegna explained this is the historical and quality production area for the variety, and they are famous for it. Like most others, the use of new oak here has been quite dramatically reduced over the past decade to make for more expressive wines. I have always enjoyed these wines, but only really when they have had bottle age (the 2004s are delicious now, as was a 1997 recently opened), and I found it hard work tasting the 2008 Barolos, which were tight and unforgiving at this moment in time. Matteo told us that 2009 was one of the best vintages ever in Dolgliani, and while the Dolcettos in 2011 were a disaster, the Nebbiolos were the healthiest he had seen. As we left the sun was setting behind the hills and it was clear that our final appointment in Barolo would be in darkness.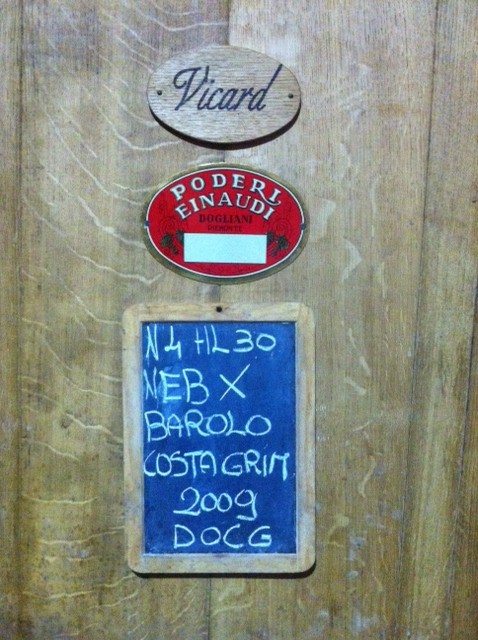 Andrea Oberto's winery is housed in a large modern, purpose built building just outside the town of La Morra. They have sixteen hectares of vineyards across La Morra, Barolo and Roero (the latter being rented, although Fabio informed us rather glumly that they had just lost their rented vines in Brunate as Vietti had taken them back for their own use). Andrea was a passionate winemaker since he was young, but had to work as a long haul lorry driver until such time as he could afford to buy some vineyards and start making wine, two decades ago. Fabio has joined him but there is a distinct impression that Dad is reluctant to let go of the reins and is very much involved. In spite of their passionate and continued use of new oak barrels, with all the wines spending six months in new French oak before being transferred to Slavonian oak 'botte' for eighteen months, this was a fabulous tasting of expressive and very well made wines. The three Barolo 2008 'crus' were hugely impressive, the Brunate being the most favoured (feminine and elegant), followed by Albarella (umami), and Rocche (muscular).
At the end of what was a long day of tasting it would have been lovely to slip back to Lalibera for a single course and hit the sack, but Fabio had other ideas and kindly took us to dinner at a rather smart restaurant inside a huge old castle, which dragged on, and on, and on…… I will spare the detail, but suffice to say it was the sort of restaurant where you just knew that the food will be over ambitious and overpriced and midway through dinner I just wanted to stand up and scream!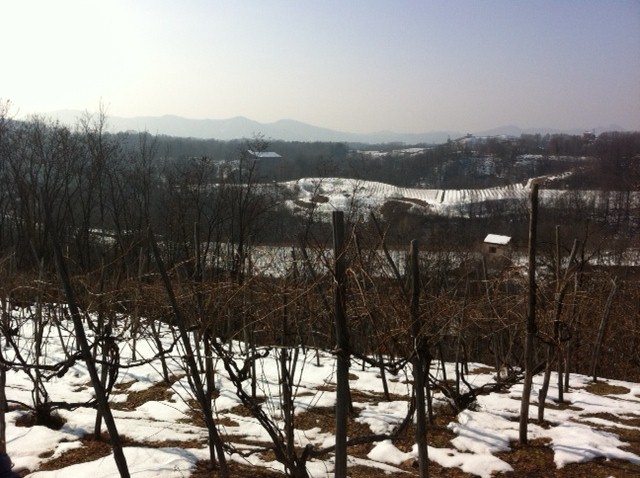 The following morning we to the North of Piemonte, and the little known region of Boca, to visit Christoph Kunzli and his Le Piane vineyards. This is something of a backwater, almost forgotten by time and with a feeling of untouched remoteness. Once one of the most densely planted regions of Italy, with more vines than the whole of Tuscany, there are today no more than thirty hectares, eight of which are Le Piane. The lowest of these vineyards, are planted at 410 meters, (which is where Barbaresco stops) and the highest up at 510. The soil here is deep red volcanic (porphyric), rich in minerals, very friable, and unique to Terlano, Gattinara and Boca. Although much colder than Alba, Boca is well protected by the mountains from cold North winds and the difference between the air and the soil temperature can be as much as ten degrees, which helps both the ripening and aromatics of the grapes. Nebbiolo historically comes from here, but the soils are almost too acid (compared to the chalk soil of Barolo) giving wines with less body and lower alcohol, though the later harvests give softer tannins. However, as Christoph explains, he is not looking so much for varietal typicity in his wines, as for an expression of the place that they come from. Thus, all of his wines are field blends, regardless of what is planted in them.
The oldest vines (three hectares) are up to one hundred year old, and more, and are planted with Croatina, some Nebbiolo and other varieties (including Erbaluce), in the 'maggiorina' style; three vines planted together and trained onto four poles and wires in a wide square. It is believed the system dates back to Roman times and survived up until mechanisation when most vineyards were either abandoned or pulled up. The new vineyards (five hectares) are all planted with Nebbiolo and Vespolina in more modern rows, trained in the 'Guyot' style.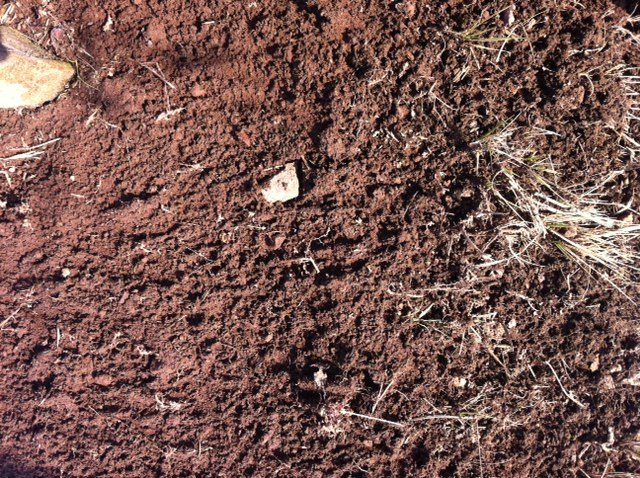 After a couple of hours in the vineyards, where with warm sun on our faces and cold snow underfooot we really got a wonderful sense of the place, Christoph took us down to his tiny but beautiful winery where we tasted teeth-shatteringly cold barrel samples of 2011 and 2010 Croatina ('rustic version of Syrah'), Nebbiolo and Vespolina (' an aromatic variety used to give more body to the Nebbiolo'). We then returned to the only hostelry in Boca, which serves both as an 'enoteca' selling Christophe's wines and doubles up as his tasting room, for a magnificent tasting through La Maggiorina, Le Piane and Boca, including older vintages from his predecessor (Cerri) who had hoarded bottles dating back as far as 1955. With age these wines are totally different to Barolo or Barbaresco, taking on more of the aromatics of old Bordeaux and the flavours of Burgundy. Not only fascinating but fabulous too. The tasting was followed by yet another glorious plate of pasta (this time with dried tomatoes, clams and tiny broccoli) and a gorgeous 'creme brulee'. A real surprise was Christophe's Erbaluce 'passito' which had both Julia and Emily writhing with ecstacy, but is sadly not yet available commercially.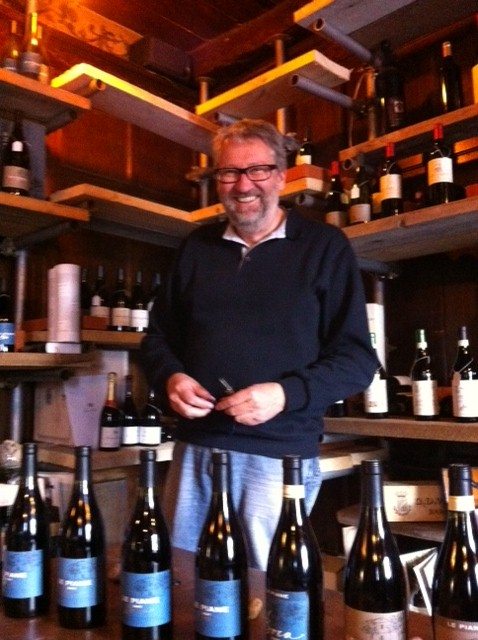 Although it is only a short drive from Boca to Turin airport (less than an hour) the contrast between natural wilderness and modernity is striking, and even a week later I can sense the unaffected wilderness of the place, and taste the naturalness of the wines. Wines which reflect another facet of Nebbiolo. Wines which deserve a far greater audience.