In November last year I wrote about my fabulous introduction to ZALTO glassware, and six months on I am delighted that my initial excitement has not been unfounded, and is being shared by a growing number of our customers.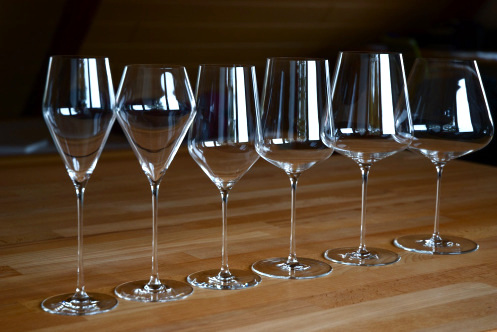 I have now had the chance to try a number of different wines from each of the four glasses we stock, and it has been a fascinating and fun thing to do. I recently met Josef Karner, one of the owners of Zalto who has invested large amounts in getting these glasses in front of a larger wine drinking audience. When I questioned him about his claim that these glasses can be cleaned in a dishwasher, without doing them any harm, he explained the fact that the very low lead lead content in Zalto glass makes them stronger and more elastic, and stops them from clouding. Almost all other glass makers use a high lead content to make the glass more maleable at lower temperatures and therefore easier to blow. Every one of Zalto's glasses are mouth blown in one piece, to feather weight perfection. Any rejected as imperfect are remelted and reblown. He also explained that they are designed with angles corresponding to those of the earth so that as a result of the cosmic parallels wines will reach their greatest potential. Whatever, it seems to work!
Universal – this is really what it says, a universal glass which suit most styles of wine, especially those which are a little more full bodied or aromatic. I find it perfect for wines such as Chianti, Rhone, Riesling and Chablis, and it is a fabulous claret glass too.
White Wine – again this does the job for pretty much most white wine, but is especially good for fuller bodied and broader whites such as Burgundy and Condrieu.
Champagne – brilliant for all sparkling wines and really gives a  lift to vintage champagne, allowing the aromatics to open to the full. It is not a bad sherry glass too, and perfectly suits the measures of Fino that I like to drink!
Burgundy – with its magnificent large bowl this is a fabulous glass from which to drink Pinot Noir (especially Burgundy), Nebbiolo (Barolo and Barbaresco), and the grander Sangioveses, such as Brunello. More delicate wines, such as lighter or older pinots are, however, in my opinio better off in the Universal.
So which glasses does one buy? All of them if you can afford it, have space to store them, and the inclination to use them all, but otherwise I would suggest buying one or two and trying them out before making a decision. They are not cheap, but they are an art form, and even if you only ever buy one Zalto glass in your lifetime, you will undoubtedly find that it changes your appreciation of drinking wine, whatever wine it is.