Many things have been done to wines over the centuries in the name of improved quality. Much of the world's best wine, for instance, is poured into oak barrels for various (often surprising) lengths of time. Casks of Madeira used to be shipped to India and back and, even, left out in the rain. A few Vin Doux Naturels in the south of France are matured in glass demi-johns left outside in the baking sun , and at least one Loire producer is ageing his wine on the seabed in the Atlantic . But never before, as far as we know, has a wine been 'sacrificed' to the Incan mountain Gods. Until now, that is.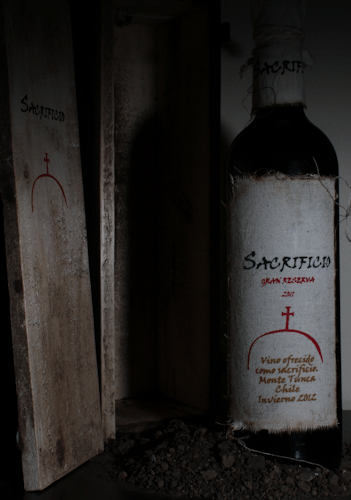 Norwich-born winemaker Ian Hutcheon owns the Tremonte estate in Chile. Back in pre-Conquest times, the Incas sacrificed animals and, often, their fellow man to the Gods atop of the mountains. Ian, inspired by the ancient traditions of the Incas (and, to be a touch cynical for a moment, the more modern traditions of the PR department) has 'sacrificed' a few bottles from his winery to Monte Tuca. This sacrifice is, fortunately, not quite as terminal as those of the Incas.  Individual bottles are wrapped in a cloak, sealed inside small coffins and buried at the summit of the mountain.  Reportedly some 200 bottles have been buried thus. Once they have overwintered, thirsty and curious punters may ascend Monte Tuca with a map and a spade (and presumably a corkscrew) and dig a bottle up again to give it the true final sacrifice that all good bottles of wine deserve.
The wine selected for this mystic treatment is Monte Rekewa Gran Reserva, a Cabernet Sauvignon, Carmenère, Syrah blend and the flagship wine from his Tremonte estate, now available exclusively from Lea & Sandeman. In addition to the Monte Rekewa there is in the range a fine cassis-laden and quite crunchy Cabernet Sauvignon, a warm brambly Merlot and a rich velvety Malbec.
All the Tremonte wines at Lea & Sandeman are available un-sacrificed, but should you wish to over-winter a bottle or two at the bottom of the garden, you'll have to provide your own coffin!