Regular Primeur buyers from L&S will know that we have been banging the drum for Pierre Taïx's 'La Mauriane' since 2001, and this tiny property in Puisseguin Saint Emilion continues to produce wines of remarkable value, with Pierre continuing to tweak the way the vineyards and managed and the wine is made and aged.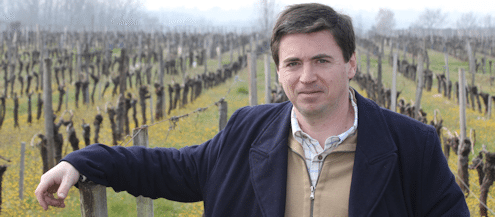 This year, having been in organic production for many years, he is excited by the prospect of selling the 2012 as 'organic wine', as opposed to the old title 'wine made from organically grown grapes'. A change in EU law has at last made this possible. The particularity of 2012 was that his Cabernet Sauvignon did not ripen in time (in his deadpan way he said that the ideal picking date for the Cabernet Sauvignon would have been the first week of November, but that in the last week of October they had 60mm of rain).
The very wet spring was very difficult for organic growers to avoid diseases, and as we have noted elesehere the rain during the flowering meant that there was a wide sprectrum of ripeness caussed by the different flowering dates. His goal was therefore to retain the complexity offered by the differences in maturity, while avoiding extracting 'vegetal' tannins from the less ripe grapes with a gentle extraction by 'pigeage'. Only natural yeasts – everthing to keep the winemaking as simple as possible, just managing the temperature since excessive heat would extract the harsher tannins he is trying to avoid.
The élevage is in a mixture of traditional barriques and also some foudres from the Austrian cooper Stockinger, which are very much the top end of the scale in modern cooperage, also used by Remi Jobard in Meursault and also by Daniel Ravier of Domaine Tempier in Bandol to bring a very 'straight' linear directness to their white wines.