This is a wonderful organic Verdicchio from the territory of Apiro in the Macerata Province of Le Marche in central Italy, without a shadow of doubt the jewel of the region.

The wine:
Very pale, clean, bright and minerally, good fruit in the mid-palate and a shapely, refreshing clarity of purpose – lovely summer white for those summer lunches with starched linen tablecloths.
The wine is a pale straw yellow with golden highlights and a luminescent tint of green. A complex aroma of exotic fruits and cedar, elder broom, lemon flowers, wild fennel and thyme, finishing with a flinty minerality. To  taste it is intense and savoury, fresh, warm and persistent.

£12.95 per bottle or £11.75 case price
What the critics say:
'Bright with white pepper spice on the nose while the palate has the softness of baked lemon fruit in the middle, although it tightens up on the finish with some crisp pear characters'. 87 – The Wine Gang
The Blend:
Hand picked, the wine is produced mainly from the Verdicchio grape to which it is permitted to add small quantities of Malvasia and Trebbiano.
Food pairing:
Pairing with Coniglio in Porchetta (if you just happen to have a rabbit and a suckling pig to hand) or with fish, lunch, or simply as an aperitif.
The Terroir:
Found between Apiro and Cupramontana, right at the heart of the lands of Verdicchio, the territory of Apiro is ideally placed on a hill at the feet of Mount San Vicino (m 1479), at an altitude of 516 m above sea level, with just more than 1500 inhabitants. The landscape is wonderful, a green valley with tilted slopes, covered with beautiful woods and vines, marked by the high peaks of Gran Sasso and Maiella that stand out towards the horizon in the south and the the peaks of Mount Catria that are found to the north.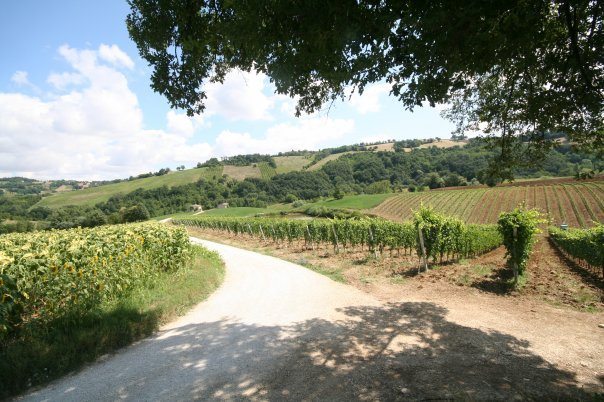 The vineyards of Andrea Felici
Le Marche Region:
Le Marche is the territory extending from the Adriatic sea to the Apennine mountains, comprising of valleys that are in some areas narrow, in others gently sloped and invariably swept by air currents. At altitudes in some cases considerably high above sea level,  this wine growing region is endowed with very favourable daily temperature ranges.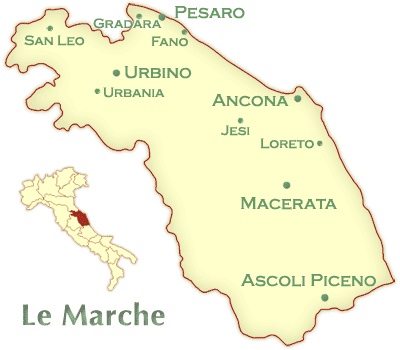 Verdicchio wines from Castelli di Jesi are renown as some of the best wines of Le Marche.
To top up your wine rack for summer evenings and also receive free nationwide delivery (for orders over £100) we've also added below a brief list of some of our current Italian favourites of the moment.
Lastly, your feedback on our offers and web experience is invaluable to us, so do drop us a line at: feedback@leaandsandeman.co.uk