i Clivi was created when Ferdinando Zanusso bought two dishevelled old vineyards in the early 1990's. They were in a poor state but were rescuable and their age has become key to i Clivi's success. Around the winery are 8ha of vineyard on the Gramogliano hill in the commune of Corno di Rosazzo, forming part of the Colli Orientali del Friuli DOC, and there are another 4ha a few miles away on the slopes of Mount Quarin at Brazzano in the Collio DOC. Most vines are of indigenous varieties, with the largest part being Friulano (what was once called Tocai), and most vines are between 40 and 80 years old, producing tiny crops of wonderfully concentrated grapes. The organically tended vineyards are a natural wonderland as Patrick Sandeman found on his visit back in 2011.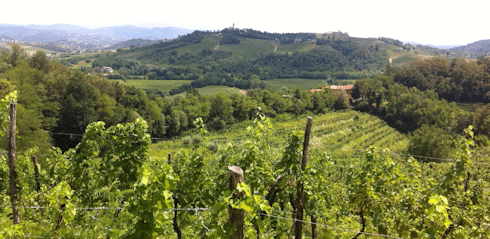 'On the hillside overlooking the valley down towards the plain of Cormons, this is a true haven of wilderness. Gnarled old vines on slopes that are only workable by hand, surrounded by woodland and olive trees, teeming with butterflies and other insects among the wild flowers and grasses, one immediately understands that these are natural vineyards which are full of nature.' PDS – Blog 2011
'99% of the wine is made in the vineyard.'
Mario Zanusso
Now joined by his son Mario, the Zanussos make what they like to describe as "transparent" wine, intending that a wine should truly represent its origins, its soil and environment – what the French would call terroir – rather than showing the man-made influence of the cellar.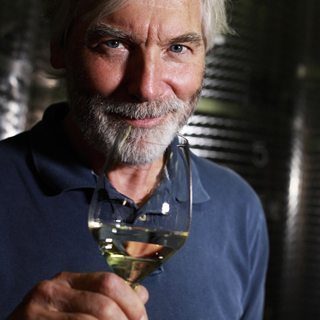 So, in addition to organically farming their fields of old vines, the Zanussos keep yields very low – often not reaching 20hl/ha, barely a third of what the DOC allows – use a gentle Champagne press to crush the grapes but only seek to extract the 'fiore' ('flower') of the juice, only around 60% of the possible must.  The long slow fermentation (sometimes taking until January or February to complete) is conducted in stainless-steel using only the natural vineyard yeasts; after malo-lactic fermentation the wines are aged for two years in stainless-steel and around a year in bottle before release.  There is no oak involved except for their red wine.
'A wine truly grown, whose character is shaped entirely in the vineyard by soil, climate and vines and is in no way altered in the cellar, a wine that stands solely on itself, on its own intrinsic qualities, and is not made to suffer any intervention or "improvement".' i Clivi
These are delightful, beguiling wines that drink beautifully in their youth, as one might expect.  What one might not expect is just how well they age, something more than adequately illustrated by the Brazan 2001 and Galea 1997 which are astounding wines akin, if they are akin to anything, to mature White Burgundy, but without the mature White Burgundy price-tag.

clivi Galea 2010 Colli Orientali del Friuli DOC i Clivi  –  £19.75
clivi Galea 2008 Colli Orientali del Friuli DOC i Clivi  –  £17.95
From the home vineyard which enjoys all round sunshine the expression here is deeper and earthier (than the Brazan), with notes of baked apples, spices and cream. Quite delicious.
clivi Galea 1997 Colli Orientali del Friuli DOC i Clivi  –  £26.95
The nose here is of dried fruits and beeswax, with a very faint oxidative note of mature fruit (though in a very positive sense). Honey and caramel, with considerable richness and an overall dry sensation this has tremendous length and expression and remarkable lightness to it on the finish.
clivi Brazan 2010 Collio Goriziano DOC i Clivi  –  £19.75
clivi Brazan 2008 Collio Goriziano DOC i Clivi  –  £17.95
A warmer vineyard than that of Galea, the wine is richly textured, aromatic and fully flavoured with notes of liquorice, wild honey and spice. The finish is pure and long expressing the natural flavours of the vineyard. Awesome wine for the price.
clivi Brazan 2001 Collio Goriziano DOC i Clivi  –  £23.25
Tasting of warm and ripe old fashioned cider apples, but not in any way 'cidery', with tremendous length. This is lovely and fascinating but still has years of life ahead.

Verduzzo 2010 Colli Orientali del Friuli DOC i Clivi  –  £16.75
A rare grape variety more often associated with sweet wines but, in this instance, crafted into a a fascinating and refreshing dry white wine – fabulously textured, full bodied with richness and complexity.

Malvasia 2009 Colli Orientali del Friuli DOC i Clivi  –  £19.95
A bone dry wine of great texture and restrained fruit, but with lovely fruit flavours (dry white peach and apricot) and tremendous length.
'Made from old, low-yielding Malvasia Istriana, the distinctive fresh ripe apple and peach-like fruit is so juicy it's almost bouncy in its lively textural, concentrated old vine fruit quality. Fine balance and complexing lees-derived character, and a mouthwateringly bone dry, mineral finish.' 91/100  www.thewinegang.com

clivi Galea 2003 Colli Orientali del Friuli DOC i Clivi  –  £15.95
The Zanussos' only red wine is a delicious Merlot.  Vinified in stainless steel, with the cap held in suspension half way up the tank, the wine is then aged in fifteen year old oak barrels for one year (so as to allow the wine to 'breathe' without taking on oak flavours), before spending a further year back in stainless steel. This is a Merlot with Northern Italian attitude (robust food and rugby players from this region) and apart from its brick red colour and developed nose would be hard to place. Savoury, spicy, firm tannins lead to a palate of mature black fruit and a very long finish.
'A mature wine, all forest fruit and forest floor on the nose. The palate is an interplay of lights and darks, high notes and low bass notes. Tannins have real presence, and combined with the mature, complex flavour profile, there is much of interest in this wine.' Decanter Magazine
** very limited stocks **