On a pleasant Wednesday evening in late September, 30 eager tasters gathered in the LEA & SANDEMAN shop in Chiswick to taste Portuguese wine and to drink in words of wisdom from a very special guest speaker. We were honoured, thrilled and really rather excited to have secured, courtesy of Wines of Portugal, the services of the great Charles Metcalfe for the evening. Charles has been around the UK wine trade, seemingly, for ever as a writer, reviewer and all round enthusiast for the fruit of the vine. He was one of the founders of Wine Magazine, one of the organisers of the International Wine Challenge and was, for many years, a regular on TV particularly with Richard & Judy. He, also, just happens to harbour a particular passion for Portugal and Portuguese wine.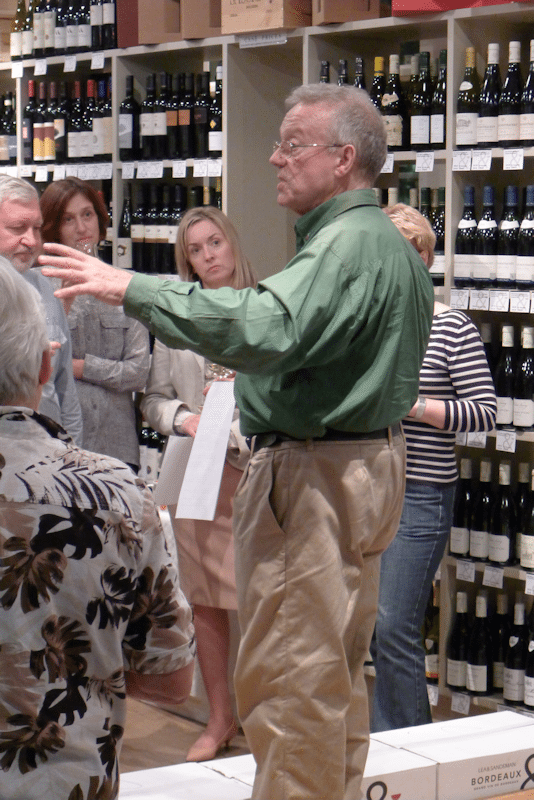 The tasting commenced with our latest Portuguese discovery Casa da Senra Loureiro 2012 Vinho Verde from Northern Portugal – a bright, lightish white which just plays with the idea of exhibiting some tropical notes, before refreshing the drinker with a crisp clean finish. Charles explained, after a small discourse about the portion sizes in Portuguese restaurants and exalting the virtues of salt cod, that Loureiro was one of the two best grape varieties grown in the Vinho Verde region.
The other of the two best varieties of the Vinho Verde, he said, is Alvarinho (known to many as Albariño, Galicia's great gift to the wine world) which was fortunate, as the very next wine in the tasting was an Alvarinho – but not from the Vinho Verde, this was Peter Bright's Terra d'Alter 2012 Alvarinho from the Alentejo. A little rounder, maybe a shade lusher, than a more 'typical' Alvarinho from more northerly vineyards, a very attractive crowd pleasing style of wine.
Introducing the Terra d'Alter gave Charles a chance to talk about Peter Bright, an Australian wine maker who has been living and working in Portugal for many years making some of the country's more ground breaking wines, with his newest project – Terra d'Alter – up in the hills of the Alentejo. So, the next wine was another of Peter's white wines – Terra d'Alter 2011 Reserva. The assembled throng were invited to guess the principal grape variety in this blend, and one canny taster spotted/guessed the guiding hand of the very un-Portuguese Viognier – much approbation on the head of said canny taster. The rest of the blend gave Charles ample opportunity to show off his Portuguese pronunciation – along with the 40% Viognier goes 15% Siria, 15% Arinto, 15% Verdelho and 15% Gouveio – even a seemingly familiar name like Verdelho was rendered with a Lusitanian flourish that puts us mere mortals to shame. A superb wine, difficult to sell given the lack of awareness of Portuguese whites in general and the somewhat anonymous bottle, but superb none the less. The Viognier starts the experience off with lush aromatics and a hint of sweet spices but the whole affair is grounded by the freshness and zip particularly, it seems, from the Arinto and Gouveio. The best white of the night.
The Terra d'Alter theme continued with the first red – Terra d'Alter 2011 Alfrocheiro – a wine that has already proved popular with the good folk of Chiswick. The slightly softer, juicy appeal of this little cracker was well received. Charles likened the Alfrocheiro to Merlot given that, in its native Dão, it plays the supporting role to Touriga Nacional in the way that Merlot supports Cabernet Sauvignon in Bordeaux, an analogy that makes a change from the usual "Pinot Noir of Portugal" appended to Alfrocheiro.
Giving Peter Bright's wines a rest, we moved on to a Dão – Casa de Mouraz 2010. Charles knows the couple who make the Mouraz and talked about their organic approach and the fact that they've recently embraced biodynamics. That cued a short discourse on biodynamic viticulture ending with the common conclusion that we don't know why or how it works, but it seems to work.
Next up was was Dirk Niepoort's extraordinarily packaged Drink Me 2011 Douro – a lush and seductive red made from an array of Douro varieties and aged (mostly) in barrique for 18 months.
A brief flirtation with Bairrada followed with a 100% Baga wine from Luis Pato, his Vinhas Velhas 2010, a wine which gave Mr Metcalfe plenty of opportunity to remind us that 'Baga' is pronounced 'bugga'. Then on to the last of the evening's Terra d'Alter wines, but saving the best 'til last – Outeiro 2010 – sexy, seductive, rich, enveloping, lush, big and wonderful; oaked and, yes, a bit oaky; maybe less 'typically' Portuguese and more 'international' in style, but what a wine. Peter Bright moved into the Alentejo with the intention of making wonderful wines from Portuguese varietals, but some of the vineyards were already planted with French varieties, and some of the vines were quite old and well established, and there's no point wasting good vines, so he has been able to fashion this extraordinary offering. French grape varieties they may be, but this is a blend that you'd struggle to find in France (or anywhere else for that matter) – 50% Syrah, 50% Petit Verdot – fermented and aged in American oak for 22 months.  Awesome, unsubtle and lovely; not cheap but, if you got this much oomph and character in something Australian or Californian for £10 more, you'd argue that it was good value.
The evening was rounded off with a small glass of chilled Sandeman 20 year old Tawny Port whose satisfying hazelnutty caramel dried fruit character sent everyone home with a warm glow.
As expected, Charles Metcalfe was engaging, witty, enthusiastic and informative with a nice relaxed style. He even managed to break into song at one point! The wines showed well, the atmosphere was chilled (especially with air con on full blast) and everyone had a great time.
With effusive thanks to Charles Metcalfe and to Wines of Portugal for making the whole thing possible. Here's to the next time.