We are delighted to offer the third release of Gonzalez Byass' rare and delicious Palmas range of sherries. These are here and ready for immediate despatch.
Since the 1880s Gonzalez Byass has used the Palmas system to classify its highest quality Finos. The traditional 'palma' chalk mark was made on the barrel to indicate wines of exceptional finesse and delicacy of aroma with the youngest given 'una palma' up to 'cuatro palmas' for the oldest and rarest casks.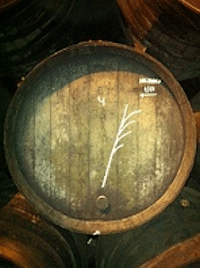 Very limited quantities of these exceptional sherries are drawn from the cask in the Autumn and bottled unfiltered and unclarified – 'en rama'. The Una, Dos and Tres Palmas are sherries originally from the famous Tio Pepe solera but that have retained their delicate coating of flor despite their increasing age. The oldest and rarest, the Cuatro Palmas, is around 40 years old and is from one of six exceptional barrels in the Gonzalez Byass cellar, three of which have now been bottled leaving only three more possible future releases.
Quantities, especially of the Tres and Cuatro Palmas, are very limited.
All are bottled in 50cl bottles.
You can of course just go to the site and type in 'palma' in the search field of our website to see them all, and to add odd bottles to any order.
'Una Palma' 6 bottles £71.70 A six year old Fino selected from a number of casks ageing under a layer of Flor. Aromatic and delicately textured this is very dry, but less austere than many Fino with an elegance that makes it very easy to drink.
'Dos Palmas' 6 bottles £100.50 An eight year old Fino selected from a couple of Fino casks still retaining a delicate layer of Flor. Moving into a Fino/Amontillado style this is more intense (than the Una Palma) and much more concentrated. The flavour is fuller and drier and very long on the finish.
'Tres Palmas' 6 bottles £221.70 It is very rare for a Fino to still retain a layer of Flor after ten years but this is taken from the very small number of barrels that do. This is on the cusp of still being a Fino, and moving really into Amontillado territory, and yet the wine still retains some of the freshness and lighter body of a Fino.
'Cuatro Palmas' 6 bottles £393 An extremely rare forty six year old fino sherry (although as last year this is labelled 'amontillado' for political reasons) drawn from one of six casks known as 'Museo Solera'. Deep in colour, intense on the nose, rich and nutty, this is totally awesome. Bone dry and yet richly textured with tremendous length.
The Una, Dos and Tres Palmas are fine delicate Finos designed to be enjoyed immediately or, at least, within 6 to 9 months of bottling, although as we have seen from previous releases, they do in fact hold much longer than that.  The Cuatro Palmas may be kept for up to 2 years before opening.

Should you be tempted by more than one of the Gonzalez Byass Palmas, why not treat yourself to a mixed half-dozen…
2 bottles 'Una Palma', 2 bottles 'Dos Palmas' and 1 bottle each of the 'Tres Palmas' and 'Cuatro Palmas' £165.00
To order, call your local LEA & SANDEMAN or order on-line.