As this year's Burgundy primeurs season progresses and we add a few remaining delicacies to the website offer, it is worth mentioning that while much of the scrabbling for allocations of 2012 Burgundy has focused on red wines, there are some really great whites. This is a little focus on Rémi Jobard, whose classic Meursaults have been on our list (OK, at first it was his father, Charles) since the very first one 25 years ago.
"You'd be happy buying any of the whites from this domaine in 2012, such is their consistent high quality"
Tim Atkin MW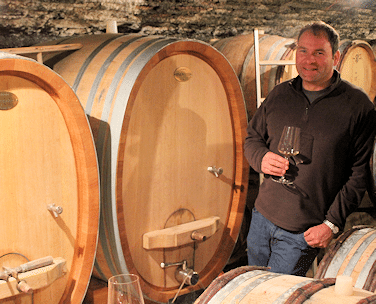 Certified organic since 2008, and fond of large foudres (brand new ones, which have to be built in his cellar) from Austrian tonnelier Stockinger rather than smaller barrels so as not to over-oak his wines.
2012 MEURSAULT 1er Cru Genevrières Domaine Rémi Jobard (£486)
Such class. There's a sort of green streak, but its not greenness in the sense of unripeness, just that it makes it so straight and directed. Considerable volume and concentration. Very rich feel, yet as bracing as a juicy peach, all freshness and juice. So much going on, yet so balanced it gives off a sense of calm, as the opulence balances the exuberance of the flavours. Bravo!
"This is Rémy Jobard's top vineyard and the class comes through in the glass. This is a smoky, taut, gently oaked white that is less opulent and flamboyant than some Genevrières, but it's long and crisp and very well balanced. 2015-25"
94 points
Tim Atkin MW
"The 2012 Meursault 1er Cru Les Genevrieres is blessed with another compelling bouquet with a surfeit of mineralite spilling over from the glass. The palate is very harmonious with citrus lemon, orange rind, dovetailing into a tense, bitter lemon finish that is vigorous and persistent. This is a great Genevrieres that should age gracefully over 10 to 15 years."
92-94 points
Neal Martin's Wine Journal, erobertparker.com
"This is lovely – in spite of the malic – ripe aromatic palate, rounded, airy, very spicy and perfumed. The finish is very long and perfumed. Fine. From 2017"
18 points
Sarah Marsh MW – The Burgundy Briefing
2012 MEURSAULT 1er Cru Poruzot Dessus Domaine Rémi Jobard (£465)
There is real richness and density here. Tasted from the new barrel the oak is evident, but the fruit shrugs it off effortlessly. Pure and long and so seamless.
"The 2012 Meursault 1er Cru Le Poruzot-Dessus comes from a 0.57-hectare parcel of vines planted in 1944 and 1985. It has a lovely bouquet bursting with mineralite and tension. It actually reminds me of one of Jean-Marc Roulot's gems. The palate is very well balanced with a crisp, very focused, citric entry. There is lovely poise and freshness here – a wine leaves you craving to taste it out of bottle tout de suite."
92-94 points
Neal Martin's Wine Journal, erobertparker.com
"The richness of the oak apparent, but this is a level up in intensity. Tight, good focused core. Compact in the middle palate. It is not at all burly and soaks up the new wood on the palate. I like the definition at the edges of the palate. A well structured wine. Contained and well edged. Towards fine. From 2016/7"
17.75 points
Sarah Marsh MW – The Burgundy Briefing
2012 MEURSAULT Chevalières Domaine Rémi Jobard (£354)
Oldest vines of the domaine, planted in 1940. Nose has a touch of creamy lactic, but the palate is glassy calm, mineral and pure, fresh and subtly delicate. The intensity of flavour is matched by the freshness of acidity. Very long.
"The 2012 Meursault Les Chevaliers has a very vibrant, shimmering bouquet with citrus peel, orange blossom, hints of tropical fruit and minerals. The palate is well balanced with finely judged acidity, excellent tension and a cheeky, oyster shell finish. This surpasses everything you could ask from Meursault village cru."
90-92 points
Neal Martin's Wine Journal, erobertparker.com
94 points – Tim Atkin MW
16.5 points – Sarah Marsh MW "Particularly good."
17 points – Richard Hemming – www.jancisrobinson.com
2012 MEURSAULT Narvaux Domaine Rémi Jobard (£339)
90-92 points – Neal Martin's Wine Journal, erobertparker.com "premier cru in all but name as far as I am concerned"
93 points, Tim Atkin MW
17 points – Sarah Marsh MW
17+ points – Richard Hemming – www.jancisrobinson.com
2012 MEURSAULT Sous la Velle Domaine Rémi Jobard (£270)
"Some ripe more mandarin aromas. Bright ripe grapefruit flavours and tropical fruit. Plenty of richness and lots of acidity on the finish. Punchy. Good balance. Quite of lot of oak. It is rich, forward, full and glossy. Good. From 2015"
Sarah Marsh MW

92 points – Tim Atkin MW
88-90 points, Neal Martin's Wine Journal, erobertparker.com
2012 BOURGOGNE BLANC Domaine Rémi Jobard (£138)
A délice! Very pure, aerial and delicate. From seven different parcels all of which touch the Meursault appellation. Taut but sweetly moreish too. 2014-2020+ One of the great bargains of the Côte d'Or.
"Rich and vibrant aroma with plenty of fruit. Juicy, ripe, rounded and generous palate. Quite a lot of oak showing on this, but it will not be on the finished wine. Good acidity on the finish. A forward style. From 2014"
Sarah Marsh MW
2012
"It is rich and has good balance. It will be easier to drink than 2010. Like 2011 but richer. A vintage for medium ageing."
Rémi Jobard, quoted by Sarah Marsh MW
All prices quoted are the In Bond price for 12 bottles