2013 BILBO – Saint Saturnin – Domaine de La Réserve d'O

Grapes: Cinsault, Syrah, Grenache
Colour: Red
Origin: France, Languedoc-Roussillon
Sub-district: Coteaux du Languedoc
Village: Saint Saturnin
ABV: 14%
Single bottle £13.95 or Case price £12.95*

Lea & Sandeman review
'Bio-dynamically made here at this beautiful little estate, the Bilbo (Catalan name for Bilbao) is the purest expression of their land. About 70% Grenache with the balance being made up with Syrah and a little Cinsault, Bilbo has the clear lightness of touch which is somewhat Marie Chauffray's trademark. She says the lovely delicate feel and tobacco notes are kept from being too overblown by the amazing conditions here perched 400m up on the edge of the Larzac Terrace. With up to 20 degrees diurnal difference in temperature you get long ripening times and real complexity in the juice. No oak is used but the wine spends 12 months in concrete – which rounds out the fruit and gives such an attractive, polished feel. Lots of lovely well ripened black fruit, some 'garriguey' herbal notes and tobacco spice make this a fascinating wine with huge drinkability.' L&S
Reviews and Comments
'A biodynamic Languedoc red made from Grenache, Syrah and a smidgen of Cinsault, in an appealing, approachable, almost-Beaujolais style. There's even a Beaujolais-like strawberry note to the supple, juicy, plummy fruit, but the peppery spice gives the Grenache/Syrah game away. We'd serve this just slightly cool to hobbits and other good friends.' 89/100 www.thewinegang.com (Oct 2014)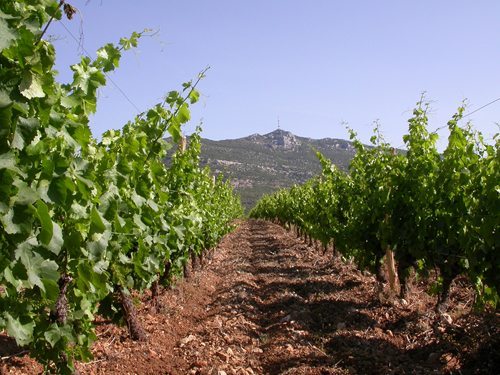 Les Terrasses de Larzac
Producers: Marie and Frederic Chauffray
Marie and Frederic Chauffray used to run a wine shop, but after studying agronomics, Marie became interested in growing grapes to make her very own wine. In 2004, she discovered a unique, original vineyard situated 400 metres up in the hills overlooking the Vallée de l'Hérault within the appellation Terrasses du Larzac. She was ecstatic. With her husband, Frédéric, they created "La Reserve d'O," which they have farmed biodynamically from day one. All of the vines on this 12.5 hectares of soils sit on their own roots in poor, stony clayey-calcareous soils.
The plateau upon which they sit is swept daily by the Mistral, a serious north wind from the Mediterranean. This special "climat" gives their wines a freshness and originality which differentiate them from the other wines of the area. All work in the vineyard is by hand. The vines now average 30 years of age and are composed of 50% Grenache, 44% Syrah and 6% Cinsault.
Their wines are certified organic and biodynamic by Ecocert and Demeter. This way of working with minimal intervention and minimal impact on the environment now also includes the labels and bottles used here. Gone our the beautifully coloured and textured labels of old – replaced with classic designs in black and white on recycled paper – they bring to mind the great labels of wines from Domaine de la Romanée Conti!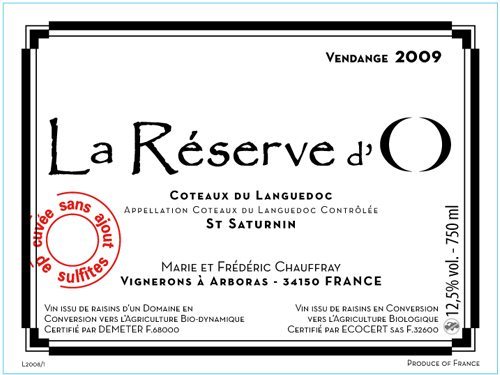 –
*Mix any 12 bottles on our website to take advantage of our case price discount.