Is there a better way to spend an August Friday at "work" than wandering through a verdant Kentish vineyard with the sun glinting through the foliage and a gentle breeze wafting up from the sea? I think not. The Met Office Amber weather warnings for storms and torrential rain came as a bit of a downer but, none the less, we packed our walking boots and wellies, folded our rain macs into our bags and gathered at St Pancras to catch the fast train to Ashford International. From the station we were cabbed out to the edges of the Romney Marsh and delivered into the care of Gusbourne Estate Vineyard.
Gusbourne Vineyard was only planted in the early years of this Century and, indeed, is still being planted as new vineyards go down every year. The main site is just outside the village of Appledore in the Kentish Weald, five or six miles from the English Channel. The usual fizz trio of Chardonnay, Pinot Noir and Pinot Meunier are planted on south facing slopes to catch maximum sunlight but, interestingly and maybe counter intuitively, on clay and sandy loam soil rather than the classic Champenoise chalky soil found on the Downs. The difference in soil type comes through in the finished wine, something perhaps most clearly seen in the Brut Reserve with its broader vinous feel that is very different from classic Champagne and many English Champagne-a-likes. Gusbourne are planting vineyards onto chalk in some new vineyards across the border in Sussex and it will, in time, prove interesting to see how that fruit will shape their style.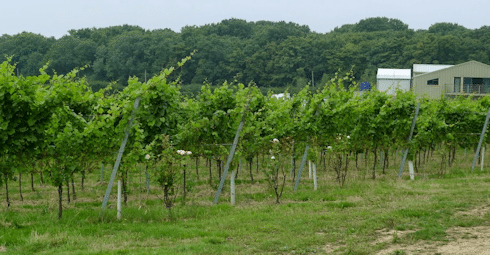 "Come on, let's get you round the vineyard before the rain starts," they said the moment we tumbled out of the people carrier, "I reckon you've got about half an hour." Indeed, despite the doom and gloom of the forecast, and the wettened ground we had whizzed past in East London on the train, this little corner of Kent remained dry so far. A sky full of light grey cloud told of uncertainty, so we donned the muddable footwear and followed Vineyard Manager Jon on a tour of his vines. By August, the vines are bearing young hard berries, which were in the process of being green harvested (reducing the number of bunches per vine to concentrate the vine's energies on the remaining fruit; sacrificing quantity for quality). We were shown rows of Pinot Noir and rows of Chardonnay, we crossed a country lane to see a newly planted vineyard complete with maize planted as a wind-break to protect the young vines (the jury is still out on the effectiveness of this method, but it shows that Gusbourne are keen to think outside the box in the name of making better wine). Back through the established vines we went, past the open field where the new winery is to be built, and we were back where we started and still not a drop of rain had fallen.
"It's all about what Jon does in the vineyard. We just try not to stuff it up in the winery."
Charlie, the winemaker, took us in hand and showed us round his winery. A crowded shed of immaculately clean stainless steel tanks and some technical talk. Aha, some wooden barrels – wooden barrels at a sparkling wine producer? A small proportion of their grapes are briefly barrel aged, not for "oakiness" – these are all 5+ year old barrels from Burgundy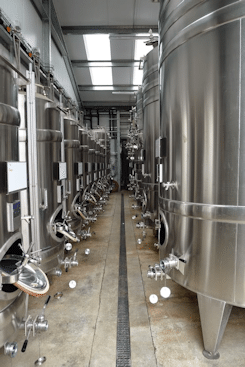 – but for the rounder texture of something that's been in a barrel. And, besides the excellent fizz, Gusbourne also make a still Pinot Noir which sees a little bit of wood, and are working on a still Chardonnay which also sits a while in wood.
A gyropalette brooded by the side wall and occasionally, and noisily, did its business. No riddling here.
Behind a non-descript slidey door was the "cellar". Anyone used to the labyrinthine chalk cellars rammed full of bottles under the vineyards of Champagne will have been astounded by this relatively tiny room/large cupboard full of developing bottles of Gusbourne. But, here it was, the future, all neatly stacked, maturing nicely. Three years on the lees for the Brut Reserve and the Blanc de Blancs, 18 months for the rosé. There was also a large wine rack full of older bottles of Gusbourne – the library; we were privileged to lighten the library stock to the tune of one bottle of Brut Reserve 2007.
Before retiring to the tasting table we looked outside. Not raining.
Then down to business with a tasting of the current Gusbourne range. The Brut Reserve 2009 (77% Chardonnay, 14% Pinot Noir, 9% Pinot Meunier) was textured and vinous, quite foody (thinking fish, or light Oriental foods) and had a character that seemed, somehow, to match the clay soil. Next the Blanc de Blancs 2010 (we currently carry the 2009), the wine you suspect the Gusbourne guys are most proud of, much zippier, a great aperitif. The cheeky and delightful Rosé 2010 was next, a mostly Chardonnay base touched with a little still Pinot Noir – crisp and elegant with gentle strawberry touches, most charming. The Brut Reserve 2007 filched from the library came next – wow! Only two years older than the current release, but deeper butterscotch and mango, creamy, buttery, complex characters – well worth squirreling a bottle or two of the 2009 away, one thinks.
During the tasting Q and A's, Charlie revealed that among the various delegations of visitors Gusbourne have received, a recent group came to visit from Bouzy in the Champagne region (including some chaps from Champagne Barnaut). You expect English vintners to go to France to see how it's done, but you don't really expect the French to seek inspiration on these shores. The Bouzy interest was interesting, too, because Bouzy is famed for its Pinot Noir and the Champagne region's famous red, Bouzy Rouge. And, aping Bouzy, the last wine revealed for our delectation was Gusbourne's still Pinot Noir 2012 (in stock at L&S soon).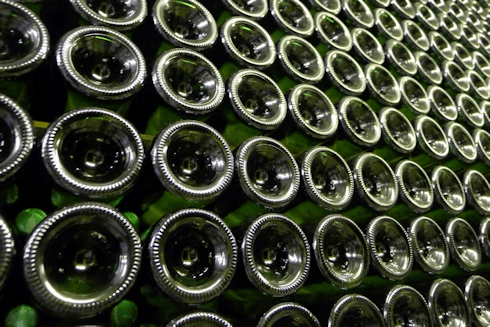 Given England's poor track record for making red wine, dedicating valuable effort into such a project might seem strange. But they are convinced that England, or at least this little corner of England, can produce good Pinot Noir. And besides, "we like drinking Pinot Noir," said CEO Ben who had joined us just in time for lunch. The Pinot Noir is fun, brightly fruited with cherry raspberry fruit, subtle overtones of Ribena, and kept fresh with some crisp English acidity. The vignerons of Burgundy's Grand Crus can rest easy in their beds just for now, but it's jolly stuff and easily the best English red wine we've ever encountered. And only 11.5%. And it went very well with the lunch that CEO Ben had joined us just in time for.
"We were going to have lunch among the vines, but what with the weather forecast, we've had to bring it inside." It wasn't raining, but upstairs to the kitchen/dining room/office reception room we went and enjoyed a terrific lunch whipped up by a local farmer's daughter. More wine talk, more Pinot Noir, more fizz, declarations of mutual fraternity, a discussion about weather apps for your phone (it wasn't raining) and, all too soon, the cab returned to hoover us all up and deposit us back on the fast train to London.
A grand day out at one of England's brightest vinous ventures, and one you'll hear more of in the future for sure. If you've not dived into English sparkling wine before, then Gusbourne is an excellent starting point (I'd start with the Brut Reserve, but that's just me); or if you've dabbled with some of the more famous English names and liked it so far, try the Gusbournes next.
A huge thank you from us to Ben, Charlie and Jon (and the farmer's daughter) for hosting us so well and giving us an insight into Gusbourne. The future looks exciting and we'll be watching attentively. And, obviously, trying the cadge another trip down to Kent.
It didn't rain.