'Making the best wines in Givry, by some stretch, if he were in any other part of Burgundy he would be heralded as a super-star.'

Grapes: Pinot Noir,  Village: Givry, Classification: 1er Cru
Origin: France, Burgundy ABV: 13%  Vineyard: à Vigne Rouge
Lea & Sandeman review
'Deep colour, harmonious red and black fruit nose. Silky fruit and a subtle umami. Deep polished expression. Very concentrated and long. Really pretty astonishing. À Vigne Rouge is a relative newcomer to François' range, but it is a vineyard he is very excited about ('un grand terroir') and of all his wines it most resembles one of the 'big' Volnays like Santenots.'  L&S
Price: £27.75 or just £24.95 case price*
What the critics say

'Nose and palate is rich lush packed with ripe fruit. The first impression is of black fruits bramble and black cherry but there is mid freshness mulberry and raspberry this lightens and gives brightness on the back palate and finish.'
Derek Smedley MW  93 points www.dereksmedleymw.co.uk
'Wow – distinctive yeast and marmite nose here. Bovril. Distinctly different from their other Givrys, and with really ripe, generous fruit too. Esoteric, valid and delicious.'
Richard Hemming  17.5 points www.jancisrobinson.com

Domaine François Lumpp
François and Isabelle Lumpp own this impeccable 16 hectare estate in Givry, a region which is so often over looked by Burgundy lovers and yet which is capable of producing wines of exceptional quality as well as value. François is a passionate viticulturalist and places great emphasis on making the wine in the vineyard. He aims to pick at 'just ripe' rather than into overripe, and wants to make bright wines which are developed rather than masked by their time in barrel.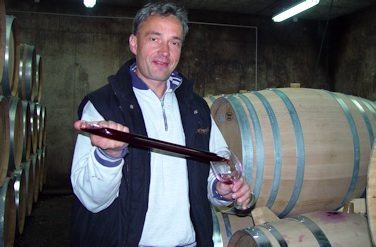 François Lumpp – Click photo for full wine list and profile
*Mix any 12 bottles and receive our case price discount – why not mix it with some other treats from our Summer selection?