2010 SAINT AUBIN 1er Cru Frionnes Domaine Hubert Lamy
'The cooler side of St. Aubin emerges in the 2010 St. Aubin Les Frionnes. Precise mineral notes frame exquisite fruit in this delicate, impeccable Burgundy. There is an understated intensity in the Frionnes that is gorgeous. The rocky soils in this site trap the daytime heat, yet at the same time force the roots to grow deep into the soils for nourishment.' 93 Antonio Galloni, www.vinousmedia.com
Grapes: Chardonnay Village: Saint Aubin  Classification: 1er Cru
Origin: France, Burgundy ABV: 13%  Sub-district: Côte de Beaune
Vineyard: Frionnes
Price:
75cl bottles: £30.75 Case price: £27.75*

Reviews and comments
'Racy and savoury and with lovely acidity and structure. Really racy. A fair price.' 2013-2017 16 Jancis Robinson MW OBE – www.JancisRobinson.com
17.5 Matthew Jukes
Olivier Lamy crafts some of the best wines in the under-rated village of St Aubin. This south-east facing site produces rich, concentrated wines with chalky minerality and attractive peachy fruit. 2013-18 (92/100) Tim Atkin MW, www.timatkin.com
'The Frionnes has a very crisp, almost Zen-like bouquet at the moment. The palate is crisp with lemon zest and orange rind on the entry, fanning out nicely across the palate with hints of ginger towards the finish.' 90-92 Neal Martin, www.erobertparker.com
'Lively but subdued aromas of white peach, tangerine, flowers and crushed stone. In a fruity, supple style, with peach, grapefruit pith and tangerine flavors lifted by a note of orange blossom. Offers more intensity than complexity and comes across as a tad tart on the back end, and still a bit youthfully bound-up.' 89(+?)? Stephen Tanzer's International Wine Cellar
Domaine Hubert Lamy
Olivier Lamy, a gifted winemaker, has built on the solid foundations his father Hubert prepared with twenty years and more of work in the vineyards. Today the Domaine has 18.5 hectares of vines – 80% are Chardonnay and 20% Pinot Noir. The vines are in several appellations – Saint-Aubin, Puligny-Montrachet, Chassagne-Montrachet and Santenay.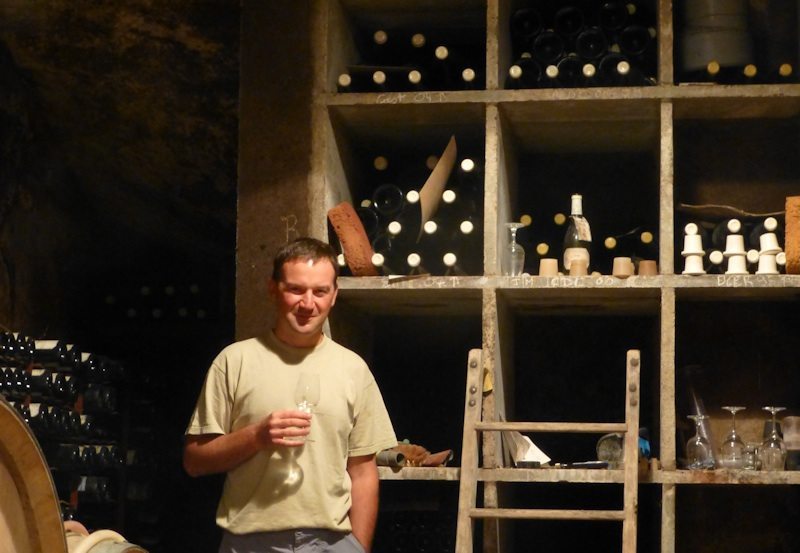 Olivier Lamy – see his full wine list here

The reputation of the domaine is now made, but the Saint Aubins, both red and white remain some of the bargains of Côte d'Or, and challenge the supposed superiority of the grander villages on a regular basis, both in terms of young and mature wines.
* Mix any 12 bottles from our website or shops to qualify for our case price discount. Free nationwide delivery on all orders over £100. Next day delivery to central London.