Rippon Valley Vineyards – Central Otago, New Zealand
Limited time offer: Case price on all single bottles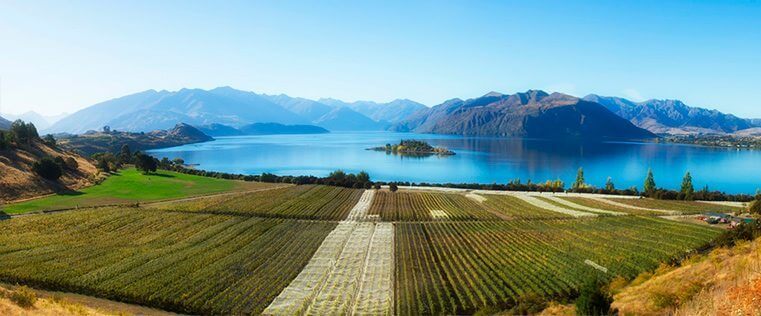 I doubt you will find a more beautiful backdrop to grow grapes in all of New Zealand. Rippon, set on the banks of Lake Wanaka in Central Otago, is not only a scenic setting but also the perfect climate to grow Pinot Noir. Lisa Perrotti-Brown (eRobertParker.com) writes:
'The 2011 Pinot Noir has an enticing nose of blackberries, red currants and black raspberries with touches of orange zest, cinnamon stick and black earth, plus a whiff of dried mint. Medium-bodied with great balance on the palate even at this youthful stage, it delivers stacks of fruit layers and a medium to firm backbone of grainy tannins that is fused with refreshing acidity right through to a long finish.' Drink it now to 2020+  Score: 93+
2011 RIPPON Pinot Noir Mature Vine

Grapes:  Pinot Noir      Colour:  Red
Origin:   Central Otago, New Zealand      ABV:  13%
PRICING
75cl bottles: £34.95         Case price*: £31.50

Producer Profile
Nick Mills returned home after several years away, working with the likes of Alain and Sophie Meunier at Domaine JJ Confuron, and Pascal Marchand (late of Domaine Comte Armand and now at Domaine de la Vougeraie). This experience with some of the leading players in Burgundy has fired him with enthusiasm, and we are already seeing the fruits of his experience in the changes in viticulture (to bio-dynamism) and the increased depth of mineral complexity in the wines. Nick Mills on Biodynamics: 'Granted custodianship over this very special piece of land, the family's principle goal is to create vins de terroir, wines that are an accurate reflection of their surroundings. It is the micro-life in our soils which, in their ability to metabolise minerals into a form that vines can assimilate, are the link in between plants and the earth. This simple biology is the essential framework in producing a wine which is true to its soil and site. With this understanding comes an absolute respect for the land and life therein and it is for this reason that Rippon is run biodynamically.
 Also by Rippon
2013 Rippon Sauvignon Blanc                         £15.95 / £14.75*
2010 Rippon Riesling                                       Sale price £13.50
2010 Rippon Emma's Block                             £49.50 / £44.75*
2010 Rippon Tinker's Field                              £56.50 / £50.95*
See all Rippon wines that are available to buy as part of this offer on our website.
Free nationwide delivery for all orders over £100.
Also available in all of our shops:
CHELSEA | KENSINGTON | CHISWICK | BARNES