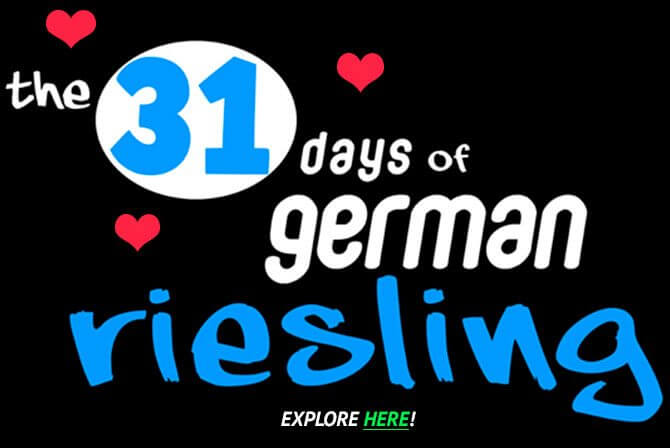 They say it takes 30 days to acquire a habit so we're joining in with 'Wines of Germanys' celebration of German Riesling during July.
We have made all of these wines available by the single bottle at our usual case price so you can get to know the different styles of Riesling that we are really pleased to have discovered over the past couple of years.
Alternatively, try 2 bottles of each in our 'Discover Riesling' Mixed Case for just £150 (instead of £182.50) saving £32.50 including free nationwide delivery.
To take advantage of this fantastic offer or to discover more about our German Rieslings, please pop into one of our shops in Chelsea, Kensington, Barnes or Chiswick or order via our new website below:
2014 Riesling 'Plaisir' Feinherb, Weingut Bamberger
Was £11.95   
Now: £10.95
Juicy nectarines and yellow fruit with a good balance with a touch of sweetness on the finish. Very drinkable and great value.
2013 Riesling Trocken 'Monzinger', Weingut Bamberger
Was £14.95   
Now: £13.50
An absolutely delicious bone-dry Riesling from the Frühlingsplätzchen vineyard in Monzinger. Has all the pin-point flavours you come to expect with this varietal but has a wonderful weight and depth. Ripe apricot and peach mix with zesty citrus flavours; an amazingly complex wine for the price.
2014 Riesling Trocken, Weingut Braunewell
Was £11.95   
Now: £10.95
Dry (trocken) Riesling from the Braunewell brothers estate in the Rheinhessen. Bright and pure, marginally fuller on the palate than the 2013, it shows its class on the long finish where the flavours develop. More to come over the next year as it opens.
2014 Essenheim Riesling Kalkstein, Weingut Braunewell
Was £15.50   
Now: £13.95
It's heresy to say it, but when you taste a dry German Riesling like this, with its peach and lime ripeness, fine talcum-powder texture and vibrant, orangey acidity and length, you wonder whether Germany should make so many sweet wines… You could easily keep this until the end of the decade.(Wine Gang)
2014 TEUFELSPFAD RIESLING, Weingut Braunewell
Was £21.95   
Now: £19.95
The Braunewells' Grand Cru level Riesling. Immediately classy nose seemingly of pure limestone, taut and bracing. On palate this is followed though in a direct line – mineral, taut, as bracing as a sea breeze. Only on the finish do the flavours begin to fan out and show how much more there is to come. Incredible length and stays totally focused and pure.
2013 KALSTADTER SAUMAGEN Spätlese Trocken, Weingut Petri
Was £14.95   
Now: £12.95
A bright, linear pure Riesling with hints of fresh lime and minerals in a medium-bodied dry frame. All in svelte length.
All wines are available on our website here.
Discover Riesling Mixed Case – £150!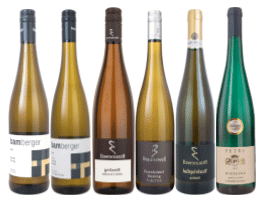 –
In addition, you could win a weekend trip to Frankfurt! 
Simply share where you enjoy your Riesling the most and tweet your #Rieslingmoment to @WinesofGermany to be in with a chance of winning.
Best wishes,