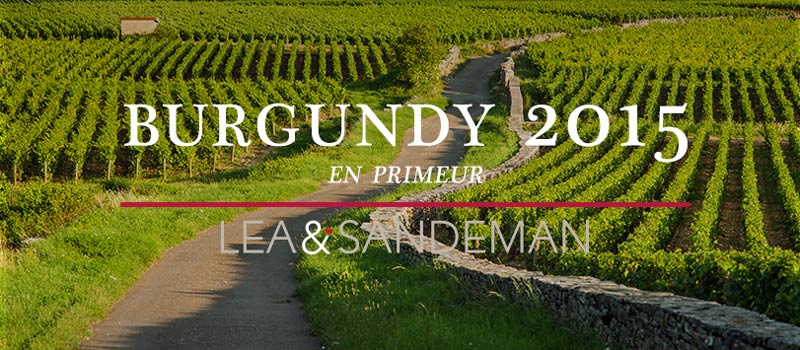 On Monday, we welcomed members of the trade and press to our 2015 Burgundy En Primeur Tasting at 67 Pall Mall. Those who braved the appalling weather and tube strike were welcomed by a room of joyous wines.
2015 was a fantastic vintage across the board. Even though some are saying it's a vintage for the reds, the whites were also singing. A testament to the producers we represent.
We now have great pleasure in launching our full offer, details of which can be found here. If you need some guidance, please find below a few highlights from the team. Alternatively, for those of you who are seeking wines for immediate drinking, please do not hesitate to contact us for a list of older Burgundy.
White Wines
Perhaps not a Chablis for purists but this is obligatory for any Burgundy lover. A rich style with incredible texture and juiciness. On the palate, it reminded me of baking an apple with demerera sugar and butter. Still great acidity and balance with surely enough concentration to sleep soundly for 10 years? Will Edwards
Already showing lots of flesh and depth but still beautifully restrained. If you lifted this Domaine from its poorer Mâconnais home and placed it firmly in the middle of the Côte d'Or, few would be the wiser. Demonstrably brilliant winemaking and hard not to make it a firm recommendation on every vintage release. Tom Lorimer
Always a favourite of mine, the Ruchottes in this vintage is fantastic. Lots of toasty oak and struck match on the nose but there is bags of richness to the fruit with a wonderfully saline/mineral finish that keeps that richness in check. Certainly one to keep for a few years but as ever with Pillot's wines this will be very drinkable in its youth. Angus Barcroft
I love a new kid on the block and am super impressed with the wise head on Pierrick's shoulders. As you'd expect there is less acidity in his Fourchaume Homme Mort than the regular village wine – but there is a great power and drive too – this is no weighty beast. A seductive feel and great intensity. These vines are so well placed to make the most of the available sun in Chablis that you get a gorgeous, almost rich, weight in a vintage like 2015. Complex, deep and delicious. Great new member of the L&S team! David Porter
Lovely elegant delivery of aniseed, peach and ripe citrus fruit, good depth and concentration. Everything has gone up a level, intensity of fruit, peach and citrus, crisp bright acid, more power, depth and weight, elegant delivery but volume has gone much higher. Phil Weeks
Red Wines
So developed and inviting on the nose that I thought someone had snuck an older vintage into the incredible Rossignol line up. Splitting hairs here as the Volnays and Pommards were outstanding too but this was just so juicy and satisfying. Silky smooth with lovely black cherry fruit, violet flowers and a sweet honeycomb flavour. Not spitting this one…Will Edwards
Gilles Moustie is fairly confident in saying that this is their best vintage since they started operating in 2006. Extraordinary, fresh, vibrant fruit for a Savigny, but refined and perfectly balanced too. A Domaine I'll champion throughout 2017 for sure. Excellent value for money at under £30 a bottle. Tom Lorimer
I was very impressed with all the wines from Lignier-Michelot but it was the Clos de la Roche that stuck out in particular (and against most others on the day as well). Immediately on the nose you are met with a beautiful bouquet of fruity and floral notes, so elegant. On the palate, there was lots of texture without being aggressive in tannins or acidity. Very smooth and long. Lots going on here, a powerful wine without being heavy and one that will be fascinating to try again in another 5-10 years. Very well balanced. Angus Barcroft
A much deeper, lusher colour than last year. The nose here is so sexy – I'm transported to Monterey for a moment. Ripe plum and some more zippy, blue fruit notes, a tad of clove. In the mouth the shape is lovely, full on – ripe fruit but not fat, broad yet straight. Ripe raspberry notes come out, this is delicious: balance with super fruit and just enough tension. Amazing value. David Porter
I must admit I loved every wine we showed from Nicolas in 2015 from the basic Bourgogne Pinot up, but this wine stole the show, in fact I would go as far as to say Pommard as a commune showed brilliantly. It was the shape and feel of this wine more than anything that was so captivating, beautiful pure fruit throughout with a supple, seductive come hither structure, quite beautiful….Phil Weeks
Browse our full offer here: