Domaine Francois & Isabelle Lumpp – Givry, Cote de Nuits, Burgundy
Amongst all the chatter about high prices in 2015 Burgundy, some real bargains get overlooked. We have been happy to see some of our regionals – 'Bourgogne Rouges' gain good traction as critics realise what great value they represent – from as little at £90 a case of 12 in bond. Perhaps the very best value of all is to be found amongst the elite growers of the Côte Chalonnaise, in Givry, Mercurey, Rully.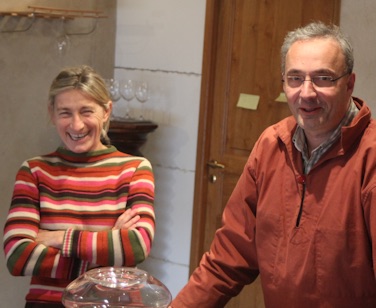 François and Isabelle Lumpp have been at the forefront of great Givry for twenty years now, and we have been championing them for at least as long. Stories abound of their wines beating all comers in blind tastings – one famous London restaurateur served a 2002 against a Cote de Nuits Grand Cru and everyone thought it was the Grand Cru. So put some away and prepare to amaze your guests.
2015 GIVRY 1er Cru à Vigne Rouge Domaine François Lumpp
(£230 per case of 12 IB)
'This too somehow manages to be both notably ripe yet cool, elegant and airy with its combination of earth, essence of red currant and discreet spice nuances. The vibrant and well-detailed flavors are not especially concentrated but I very much like the beautifully refined mouth feel as well as the lingering and complex finale. In sum this is most impressive for such young vines.' 2020+' 90-93 Allen Meadows, Burghound.
95 Tim Atkin MW
'A lovely depiction of a good vintage, and GV' ('Good Value' Ed.) Richard Hemming MW, JancisRobinson.com
–
2015 GIVRY 1er Cru Crausot Domaine François Lumpp
(£240 per case of 12 IB)
'The palate has an attractive blueberry and rose fragrance – it's charismatic and unusual. Lengthy and reasonably firm to finish, brightened by fresh, balanced acidity. Great core concentration of fruit on the finish' 17++ Richard Hemming MW, JancisRobinson.com
'The rich, full-bodied and mouth coating flavors exhibit good power and plenty of punch on the concentrated, intense and equally refined finale that, despite the excellent size and weight, retains its focus. This is excellent.' 90-93 Allen Meadows, Burghound.
–
2015 GIVRY 1er Cru Clos Jus Domaine François Lumpp
(£240 per case of 12 IB)
'Soft wood notes float atop the beautifully spicy, ripe and fresh aromas of both red and dark currant, earth and a hint of cinnamon. There is terrific underlying material to the rich and wonderfully refined medium weight flavors that possess fine volume and mid-palate concentration that coats the palate on the lingering finish that is shaped by dense but fine tannins. This is first-rate.' 90-93 Allen Meadows, Burghound
'Beautiful ripe primary fruit with a redcurrant and cherry flavour, edged with fresh mint. So expressive and outgoing – really charming and drinkable. Less substance on the palate than their A Vigne Rouge, but no less enjoyable in flavour profile.' GV. 17+ Richard Hemming MW, JancisRobinson.com