A few weeks ago, we had the pleasure of Simon Coulshaw's company for a day of trade visits. The man behind the wonderful, terroir driven wines of Domaine des Trinités in the Languedoc. His wines are as close to natural as they come without falling into the 'natural wine' category, which he's not a huge fan of. He describes his wines as minimal intervention wines; minimal sulphur, no pesticides, wild ferments and biodynamic farming. Something that he was very keen to get across to those that we visited is that the wines are 95% made in the vineyards, 5% in the winery. This philosophy, he believes, is key to making wines that speak of their terroir. There's no manipulation once the grapes have been picked, no temperature control and no oak. The result is wines that truly reflect the incredible terroir that his vineyards occupy.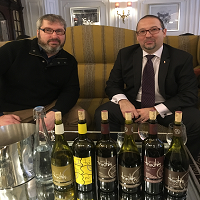 Let us, for a moment, talk about the man behind this Domaine. Having spent a full day with Simon I was truly blown away by his life experience and how he came to own the vineyards that he values so much. He spent a great deal of his youth in France. His father owned a property that was next door to a vineyard so from a very young age Simon was fascinated about wine. At 17 he was involved in making wine and not long after he was a Chef de Cave. He also spent time in New York's largest wine producing region, Finger Lakes. It was Simon's next step in his quest to own a vineyard that was a touch different. He left the vines and got a job in IT. Eventually he was travelling to Africa and the Middle East to set up AT&T's operations in the regions. In Simon's mind this was a means to an end. A short term corporate life to fulfil his dream of owning a property in France.
In 2006, after formally learning the art of viticulture and wine-making, Simon began his hunt for the perfect property. After viewing more than 100 sites he eventually found the one; "I knew within 10 minutes that I wanted to buy this property, the vineyards were exceptional, rocky schist at altitude, beautifully planted with a perfect balance of the local varieties. Great potential!" Monica, Simon's Catalan wife, a lover of Mediterranean style wines, immediately fell in love with the area and its culture and having confirmed that the house, schools etc. were up to scratch, agreed that the perfect property had at last been found.
Altogether Simon owns 24 hectares of vines. 15 of which fall into the AOC Faugères appellation and the remaining 9 into AOC Pézenas Coteaux de Languedoc. Simon told us that; "The Faugères vineyards are of pure black and grey schist whereas the Languedoc vineyards yellow schist have a slightly higher clay content offering a contrast of more fruity wines against the spicier elegant wines from the Faugères vineyards."
The Roussanne, a single varietal wine, that Simon makes is a wonder. Beautifully textured, with notes of freshly sliced green apple, blossom and citrus. Although only classified as Vins de Pays d'Oc, the vineyards are AOC Coteaux de Languedoc. The slightly northern aspect, which prolongs the ripening season allows the grapes to really shine.
Simon is a charming man. Extremely passionate about wine (and rugby I was so pleased to learn), Domaine des Trinités is a property that should be on everyone's radar.