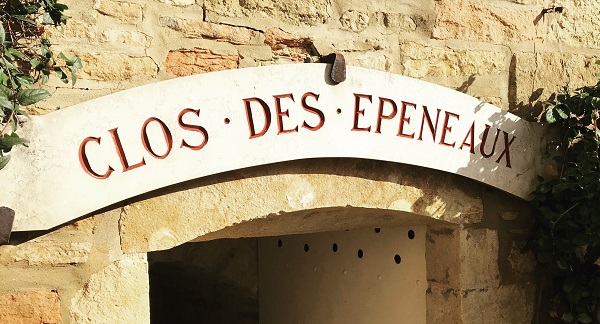 Our final day careering around the Côte began with a rather bleary-eyed breakfast. Conversation quickly turned to volume (which was nothing at all to do with the size of my bowl of cornflakes…). On paper, yields in 2017 were very high indeed. After so many vintages that have disappointed in terms of quantity, you can see how horribly tempting it must have been for vignerons to cash in on nature's bounty. The problem is, you pay a price for all that volume. Those who were not judicious about controlling yields in 2017 made wines that have a satisfying roundness but lack concentration, intensity and length. They are just a bit plump and flat.
We were very pleased to see that cellars we visited were not bursting at the gunnels. When quizzed on volume, many winemakers confirmed that their final yields were drastically reduced because of extensive green harvesting. For example, Virgile Lignier estimated that he gave up as much as 25% of the bunches on his younger vines to vendange verte. That decision clearly paid huge dividends in terms of quality and it's obvious when you taste his wines. It was hugely satisfying to see that all the producers we represent had taken the same painful decisions. Their passion and dedication to quality over quantity is exactly why we follow them year in, year out.
Full of caffeine, we headed off to Gevrey Chambertin and found Thierry Mortet in fine fettle. As is so often the case, he provides everything you could possibly want in a village Gevrey. Thierry was delighted to hear that we are currently selling his 2011 Gevrey Chambertin. Something with that level of maturity is almost impossible to find on shop shelves or restaurants in Beaune or Dijon.
Last but not least was Domaine Comte Armand. The Auxey-Duresses premier cru was startlingly good; smooth and rich but with a remarkable lightness of touch. This is definitely a wine to watch. We tasted the two main constituent parts of the Clos des Épeneaux and then a blend (60%, 40%) of the two. You can really feel the old vine intensity running through this, balanced beautifully by the vitality of the younger fruit. It's a very pure, polished and complete wine; a fitting end to a fascinating week's tasting of a vintage that, in the right hands, has produced some really excellent reds.
Keep up to date with all our en primeur adventures on instagram