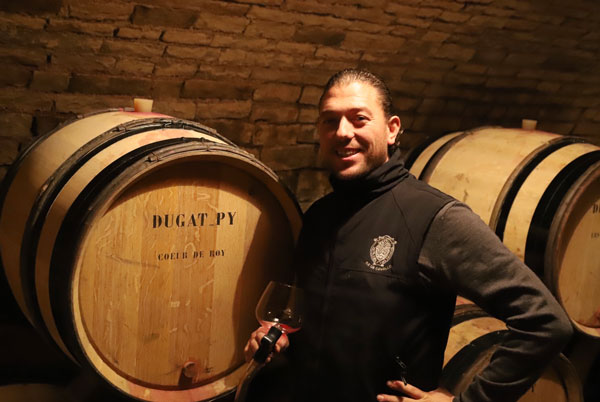 Another star-studded day yesterday. If anything, the bar was raised a notch, and not just because of a certain cellar in Gevrey Chambertin…
In Morey, we were very impressed by the selection from Lignier-Michelot. The Rue de Vergy, Faconnières and Clos Saint-Denis were very fine indeed. Also from Morey was a very polished, pure and beautifully balanced Clos de Lambrays. Here they are changing the bottles back to the pre-war diameter of 17mm (from 18.5mm), which is apparently easier to do than source larger corks of the right quality. It's all part of an extensive study conducted by the domaine into the causes of premature oxidation and inconsistent ageing. They've splashed out on a detailed geological survey too. Boris Champy joked that finally, after 800 years, the domaine now know what they're doing!
Both these tastings were very impressive but Morey's star in 2017 surely belongs to Stéphane Magnien. His Faconnières was absolutely outstanding, as were his Chambolle Sentiers and Clos Saint-Denis. The signature delicacy of the domaine was complemented by some extra volume and impressive freshness in this vintage. In fact, the wines came astonishingly close to matching the lofty heights of 2016. No wonder Stéphane was in a cheerful mood.
Anne Gros's tasting is always much anticipated. The wines here have an enchanting grace and florality. 2017 was no different but there is a slightly more gourmand feel on the palate in this vintage. Her Richebourg was a cut above, as was her Clos Vougeot (yet another impressive showing from this slightly maligned grand cru in 2017).
At completely the opposite end of the stylistic spectrum sits domaine Dugat-Py (Loïc Dugat is pictured above). As ever, we had very high expectations but even these were surpassed. Interestingly, there seems to be an extra accessibility here in 2017, which is primarily, though perhaps not entirely, the result of the vintage – time will tell. None of the wines have lost any of their hallmark concentration, intensity or energy. The persistence on the palate is nothing sort of extraordinary and each cuvée was impeccably defined. It's almost impossible to pick favourites but the Coeur de Roy, Petite Chapelle, Charmes and Mazis will linger long in the memory.
A few final appointments tomorrow and then we shall wave goodbye to Burgundy for another year.
Keep up to date with all our en primeur adventures on instagram