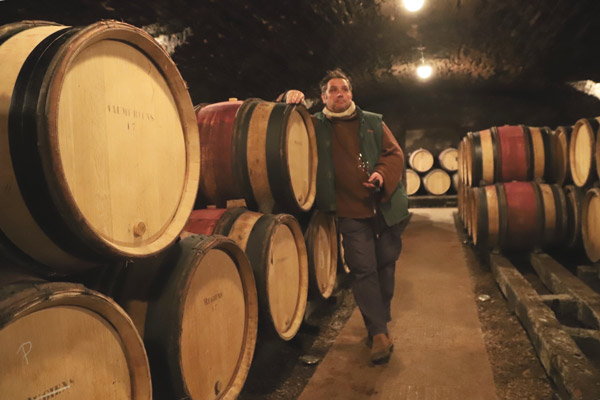 We have an early appointment with Clos de Lambrays this morning so I'll type fast.
It was an (almost) embarrassingly star-studded lineup yesterday, with far too many wines to go into great detail on each. So a word on the vintage itself, which is coming more and more into focus.
The red wines are easy, ripe, charming, immediately enjoyable. They have some of the roundness of 2010 with the structure and approachability of 2006. Acidities aren't all that high (lower than 2016, certainly) so some wines do get a bit lost under the impressive weight of up-front fruit. Those that manage to retain their freshness, energy and balance, have made really outstanding wines.
Almost universally, the reds of 2017 are a joy to taste and they will definitely give a great deal of early drinking pleasure. If we had a criticism (and we're being picky), it's that they are perhaps a bit too 'flirty'. You're sometimes left wondering if they aren't missing a more serious, sophisticated side; something that will carry them into another dimension, like the beautiful acidity of 2016 or the impressive structure of 2015.
In a few cases we also found that the definition of the different terroirs was a little blurred by the volume and roundness of fruit. The most successful wines were those that managed to retain definition and transparency – which was clearly the challenge of the vintage.
While 2017 may not be the most serious or long-lived of vintages, it gets full marks for drinking pleasure. These are delicious, open, gourmand Burgundies – and where's the harm in that?!
Of yesterday's wines we were really impressed by all the Charmes and the Clos Vougeot we tasted. Both these grand cru seem to be showing really well in this vintage – none more so than those of the brilliant Yves Confuron (pictured above). Perot-Minot's Mazoyères and Clos de Bèze were stand-out too.
We loved the extra 'grunt' of Thibault Liger-Belair's wines – the Richebourg was stunning but so too were some of the 'lesser' bottlings like the Bourgogne Rouge Les Grands Chaillots and Hautes Côtes de Nuits Clos du Prieuré which clearly benefited from the extra volume of the vintage.
Of the villages, Chambolle has been showing particularly well. There's some hugely enticing rose-petal fragrance and lovely delicacy to them. Look out for Perrot-Minot's imposter (40% of this is actually premier cru fruit), the balletic Chambolle-Musigny Feusselottes from Mugneret-Gibourg, and Confuron's utterly knock-out Derrière La Grange.
Now to Morey-Saint-Denis…
Keep up to date with all our en primeur adventures on instagram