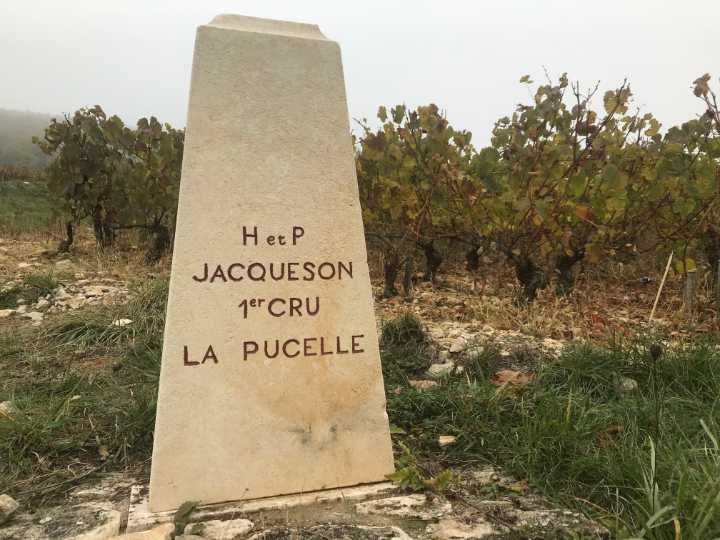 It's a beautiful, crisp autumn day as we land in Lyon.
After negotiating passport control (the sizeable queue was an ominous portent for life after Brexit), we headed through the fog to the 'calcaire' time-capsule that is the village of Rully. Our first appointment was at Domaine Jacqueson. Always a good bellwether for 'drinking' Burgundy, this was a great place to start our week of tasting. The whites were beautifully textured and deliciously drinkable. The premier cru Les Pucelles was a particular highlight and will be superb value as always. The reds were juicy, fine, bright, friendly – wines that will give great pleasure and soon. We were really taken by the charm and balance of the premier cru Les Cloux but there's such lovely fruit-weight to all these wines.
Then on to Domaine Joël Rémy. His easy-drinking 2015s and 2016s have been enormously popular with our trade customers and we expect this vintage to be no different. The Chorey and Savigny are the best kind of accessible and appetising red Burgundy. Don't let the restaurants steal them all!
We snuck in a visit to the other Remi (Jobard) late in the day. His Meursaults are still in barrel but the samples we tasted were deliciously inviting, creamy and energetic. Normally it's the Genevrières that steals the show at this early stage but the Poruzot-Dessus was also showing superbly. The Charmes was a real treat too. Concentrated and impeccably textured, this will be magnificent in time.
It's early to bed, ahead of a very busy day tomorrow (Mugneret-Gibourg, Perrot-Minot, Confuron-Cotetidot, Thibault Liger-Belair, Domaine de Courcel) but not before a quick dinner at La Dilettante and an outstanding glass of 2008 Meursault Poruzot courtesy of Remi. He thinks this and the 2012 are the vintages to drink now.
Keep up to date with all our en primeur adventures on instagram