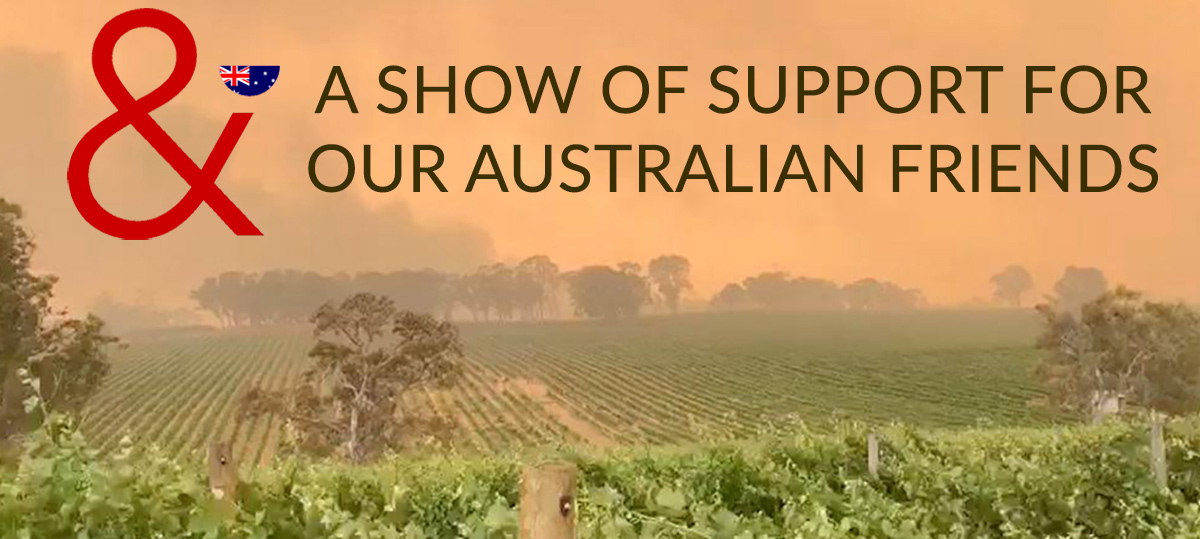 We will be donating £1 of every Australian bottle sold for the next two months to WIRES and the Australian Red Cross. Please click here for our full Aussie wine list.
One of our producers, Tim Smith of Tim Smith Wines, Barossa Valley, has sent us his view of the situation:
"So-a heads up on how the fires have affected us here in the Barossa. As I look out the window, there is a distinct haze in the sky. According to the meteorologists, it's the smoke from the bushfires in New South Wales and Victoria on our Eastern seaboard. A couple of days ago, we had haze from the Kangaroo Island bushfires about 100 miles South of Adelaide, our State capital.
A week ago, there was unprecedented fires in the Adelaide Hills, some 15 miles from Adelaide.
Here in the Barossa the only impacts we have felt has been the faint haze of smoke from these regions at various times. Some might wonder the effect this has on our region and grapes that are slowly ripening.
At the moment, the grapes have not gone through the growing stage known as veraison. This is the point in the ripening cycle where the green berries turn to red and soften (in the case of red grapes) and white grapes soften and become more translucent and then develop sugar and flavour. We feel like we have dodged a bullet (so far) as when grapevines experience temperatures above about 35 degrees C (95F) the vines actually slow down and in some cases, stop their growth cycle. The short explanation here is that smoke taint is most likely to be picked up later in the ripening phase, and as weird as this may sound-with the heat that most of the country and definitely in South Australia, veraison has been delayed. Hopefully the smoke clears very soon, as this is the week (first week in January as I write this) that we typically see it.
On a personal level, my daughter owns a rental property in the Adelaide Hills – 20 yard high flames were only 400 yards from the house so her tenants had to evacuate. She lives in the South of the Barossa, where only last Friday night a fire there had her pack the car ready to evacuate. Thankfully, this didn't happen. It's when it hits those close to you that you realise just how serious this is.
On top of this, we are likely to experience one of the lowest yielding vintages ever in 2020. This comes after a particularly small 2019, and a not so big 2018. The competition for grapes has typically been within the region as local winemakers (myself included) jostle for the right parcels of fruit. This year however, because so much fruit has been lost from outside the region, quite a few winemakers from the Adelaide Hills and other fire affected regions are trying to source fruit from within the Barossa. What was once a fairly respectful tussle for fruit supply is slowly turning into a war ! (not quite)
I would add that this hasn't stopped any of us from trading through though: what we need as an industry more than ever is support in still doing business with our country; the UK is definitely experiencing its own problems in terms of political unrest at the moment, and we acknowledge that.
That's kind of where we are at; I've been around long enough (unfortunately) to see a few highs and lows, and this is one of the lows at the moment. I'm constantly amazed each day with our Australian spirit of never giving in and some of the tales of compassion and help are just staggering. Times like these bring out the best in us sometimes."


Tim Smith, Tim Smith Wines, Barossa Valley.
You can also donate directly to any of the following charities: