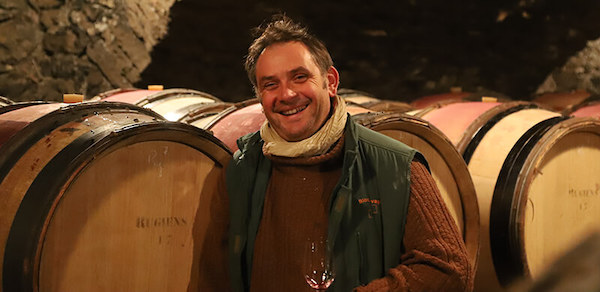 Domaine Confuron Cotetidot, along with Domaine de Courcel where the wines are made in the same way by the same hand, are two examples of 'outliers', in the sense that the wines really are made in a way which is seemingly at odds with most thinking of the day. And yet by never changing they can also find themselves almost coming back into fashion.
Yves Confuron and his family have always worked organically, believing that anything else would not be true to the expression of the site. More and more domaines are now turning to organic farming. Yves Confuron makes wines in an uncompromising way which does not bow to the vagaries of fashion, but which aims to get from each special site everything that it has to give in the conditions of each vintage. He argues that you cannot do this by picking anything but fruit as ripe as the vintage can make it, and that the whole bunches must go into the vat because that is all part of the origin. Now more and more winemakers are playing with at least a proportion of whole bunches, but no one picks as late as the Confurons.
In recent years, faced with grapes that are at over 13.5% potential alcohol at the end of August many growers have resorted to picking earlier, to preserve freshness and the vibrant top-notes of red fruit, making Pinot which 'pinotes', as the expression goes. The problem is that although the sugars are there, the stems are still green, so that putting them in the vats risks green tannins. The pips too are green with bitter tannins, so any kind of firm extraction is ruled out in favour of gentle infusion, making wines which have the delicacy and lacy side of Pinot, but in the more extreme cases have little else – these can be good early drinking but lack the depth and longevity of the great Burgundies of the past – or so at least the Confurons would argue.
The Confurons pick late, and use 100% whole bunches, and aim to extract to the maximum, again on pursuit of the goal of getting everything the 'terroir' can give into the finished wine. Unsurprisingly their wines are going to have a different balance to a grower who picks early and 'infuses'. The élevage is different too – many contemporary winemakers are ageing their wines for around ten months in barrel, transferring to tank (at least partly to make room for the next vintage) and then bottling anywhere between eleven and fifteen months after the harvest. Yves, with his two very cold cellars on Vosne and Pommard, keeps the wines in barrel for two years, only bottling after two more harvest have passed. Very often the malolactic fermentations are late to happen in these cold cellars.
All these factors and more contribute to something which is not widely understood, which is that it's very difficult indeed to taste these wines with the same criteria in mind (should you have criteria in mind?) alongside wines which are finished and either bottled or in tank ready for bottling. Yet this is what we do, and the results can be to say the least, confusing, with notes that vary wildly and even drinking dates which show a lack of understanding of how the wines evolve when made in this 'slow' style. Two prominent critics, faced with Yves' 2019s, have given 'drink by dates' that barely overlap if at all, so that we have the iconic Vosne Suchots, for example, either drinking '2023-2035' or 'from 2034'. Our own view, with the benefit of lots of tastings of older wines, was 2030-2045, with the end-date being intended to be fairly conservative as so much depends on the quality of the cellaring.
Thankfully the Confurons have fans who have tasted older wines from them, and know from experience just how wonderful these wines can be with age, when the tannins that inevitably result from this way of growing and making wine have softened. The brightness of the orange-tinged colour as the wine ages, the extraordinary mellow complexity and depth to the nose, the warm inner glow and spicy depth – are worth every penny and every year of age.
Richard Hemming MW, wrote for JancisRobinson.com:
"While tasting these wines at Lea & Sandeman, I was given a spontaneous lesson on the domaine from a fan. He informed me they are a very traditional producer who use 100% whole-bunch fermentation for every cuvée, not in pursuit of trendy stemmy aromatic character but because it is the old-fashioned way. The winemaker Yves Confuron apparently gets up at 6 am to make wine at Domaine de Courcel before returning to work at the family estate in the afternoon. I was particularly impressed by the great variation in flavour they conjure from their various vineyards, all of which seemed to adhere to the classic expectation for their appellation." 
A few years ago we took writer Greg Love to taste the 2015s at Confuron, and he wrote:
Like being tied to the railway tracks with a Eurostar train bearing down on you at 300 kmh, the 2015 Confuron Cotetidot wines are the biggest mind benders of the vintage. Yves and Jean-Pierre Confuron of Vosne Romanée have produced a set of explosively dynamic and operatic wines across the range, that demonstrate an exemplary terroir focus and great freshness. Young vignerons who pursue soft infusions without the requisite standard of vineyard work would do well to consider just what it takes to bring out the deeper layers of Burgundy's terroirs by looking at the work of the Confuron team. Their 2015s are a legendary set of wines that are arresting, pure and electrifying and will stand as monuments to what great Burgundy, made in a deep, whole bunch style, is capable of delivering.
As Yves is fond of saying, he does not buy grapes, he does not make négociant wines. He and his family just make the very best and most authentic wines they can from immaculate vineyard management that goes from the plant selection right through to the late-picking of fully-ripe fruit, followed by a two year élevage in barrel, a long slow process which produces wines which need a long slow development.
As Alan Meadows (Burghound) puts it:
"As I always underscore, the house style is decidedly old school and there's no point buying these wines without the express intention of aging them over the longer-term."
For all this effort we'd argue the Confurons are not all that well-rewarded and their pricing does not reflect the care and sheer hard-work that goes into them – we cannot recommend them to you highly enough, as they remain some of the best as well as best value wines available in Burgundy. Whether it's the exceptional Bourgogne Rouge (village-level quality in most cellars), the deep village wines (three of which make it into Burghound's 'Sweet Spot' wines of the vintage) from only £36.25 a bottle in bond, or the iconic premiers Crus of Vosne 'Suchots' or Chambolle 'Derriere la Grange' (a monopole of the domaine), you need to find a space for these wines in your cellar. See the wines here:
You may also be interested to try some older wines, recently shipped from the domaine, which are available in limited quantities.